20 Hip-Hop Songs Featuring the Best Comic Book References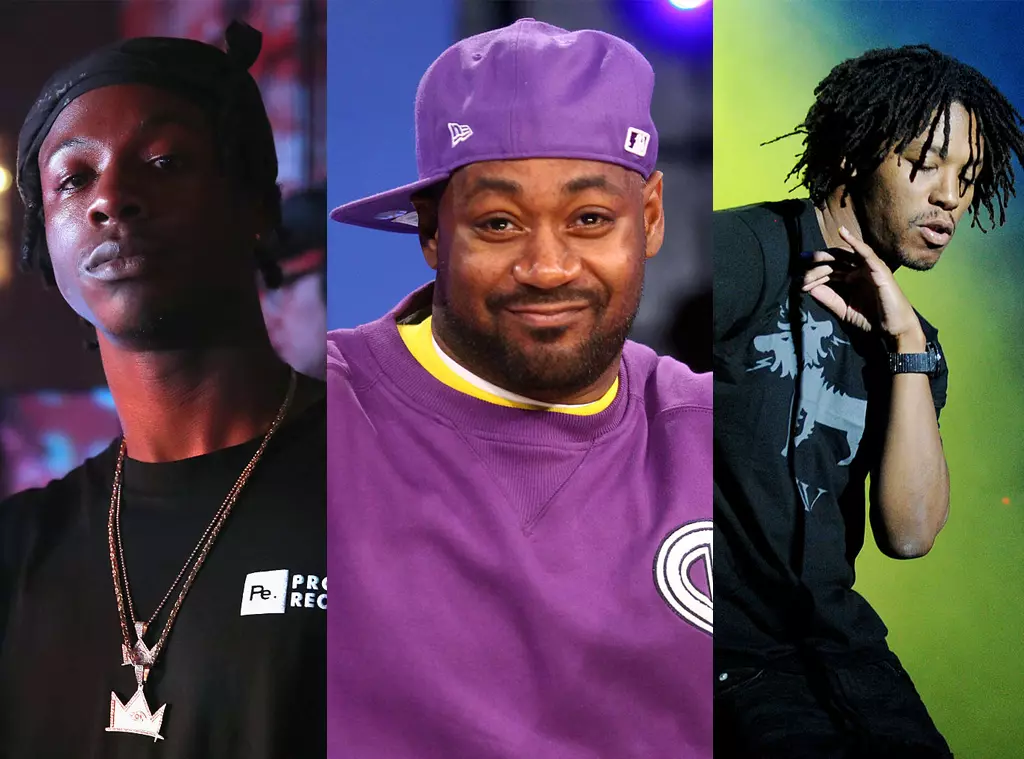 Rappers have always had a penchant for comic books. And it shows in their rhymes. The connection between hip-hop and the comic book world runs deep, with both sectors having branched off into numerous respective sub-genres over the past few decades, and both heavily rooted in creativity and artistic expression. It's not surprising to learn that a good portion of your favorite rapper's are huge comic book heads. MF DOOM (Operation Doomsday) and Czarface, the collaboration of Inspectah Deck and 7L & Esoteric (A Fistful of Peril), have projects entirely built around comic book themes; others like Ghostface Killah (Tony Starks) and Method Man (Johnny Blaze) have made iconic comic characters a huge part of their personas and reoccurring rhyme themes.
Much like the hip-hop industry, comics have grown and changed over the years. In the past decade, the two worlds have had much overlap and collision, whether hip-hop artists were featured in popular books, notable artists were tapped to design album covers or music references were popping up in big screen adaptions of some of Marvel's major franchises. Marvel even doubled down, putting their hip-hop fandom on front street with their much lauded variant cover series, which has reproduced iconic album covers from the likes of LL Cool J, Nas, Missy Elliott, Pusha T and much more.
Over the course of hip-hop, many rappers have used clever references to their favorite illustrated books and characters to make references to everything from strength to sexual prowess. From Lupe Fiasco to Ghostface and more, we've taken the liberty of putting together an eclectic playlist of records with some of the dopest comic book references. Let the nerdery commence.
"I took the game by storm, just to X-Men out/I'm crazy out my mind, I put my life on the line/The tortoise only makes progress when his neck sticks out."
"The Luke Cage of the loose leaf page/Run and hide, comin' out in the yard/Bona fide to be hard."
"KRS and Professor X would battle each other mentally/With rhymes, these two team captains waste no time/Charles Xavier tried to invade Kris Parker's mind/ He shot a cerebral probe at Kris' mind, but he missed it/Professor X taken out by the Blastmaster's metaphysics."
"The only time he be asking is when he sexin'/My team like teenage mutants and X-Men/Fire spark when I step in/ He the human torch/Inhaling fumes of all sorts of course."
"Reaching for better, it's whatever, I'm Kevin Bacon/X-Men out that want none a part of my making why/Bane ain't a match for this MC/And Dark Knight bat wings need a M3."
"Act as if they know Drake/Always gossipin', callin' and textin'/Magneto, niggas tryna bring down ex-men/X-Men/ Tellin' my ex-girl tryna explain/How I am no good so go with the next man.
"​Superstar Remix"
Lupe Fiasco Featuring Jeezy and T.I.
"I fell on purpose to stay a freshman/I lose, but Lu attend the school for X-Men/So when I get my cap and gown and put the rapping down/I'll only know half my powers, but I spent half an hour."
"Ice Cream"
Raekwon Featuring Ghostface Killah, Method Man and Cappadonna
"Your whole shell baby's wicked like Nimrod/Caught me like a fresh water scrod, or may I not be God."
"You ain't got that metal on your side/Police gon' work it like Magneto if they need to, it get deep/Deep, deeper than telekinesis/Deeper than your sister dying and you're telling your nieces."
"I was raised on a tape the same color as Galactus"
"Chillin' on the low-key, incognito/Manipulate the steel like Magneto/Smacking suckers like mosquitoes/Dispersin' verses like a kilo."
​"When they kidnapped your boy and forced me to do evil/I created an iron suit to protect my people/Escaped, bound to be Ironman the great/The billionare Tony Stark'll renew your fate."
"When it comes to the perfection of my shit, I know you smell the/Rectum, I'm like a chromosome I always X them/Like Wolverine step-son attacking a deadly weapon."
"Superheroes"
Chief Keef Featuring A$AP Rocky
"Spiderman, Peter Parker, I'm like Peter Pan/Treat my ops like Cyclops if I see the man/Wolverine in skinny jeans, diamonds Billy Jean/They tap dance, the Batman is a Black man."
"Oooh"
Pusha T Featuring Tyler, The Creator, Hodgy Beats and Liva Don Hodgy
"I don't hunt game, motherfucker, I hunt men/Take 'em to the back of my pick-up truck to rot them/Kill a fuckin' superhero, I watch the Watchmen."
"​Televised"
​Curren$y Featuring Fiend
"G'd up music, we spark a barbecue/Got a '70 Carlo named after daughter too/X-Men Wolverine blue, you can see the water too/Oak wood turning, know what we burning."
"Bitches on me that I ain't never met man/The only thing that's on ya dick is ya left hand/Wolverine nails signin' on the X man/They don't hear me up in Def Jam."
"In ya speaker, destroy your woofer, mids and tweeters/ Not Wolverine but still I hold Claws like Chamique/Water Boys get slaughtered automatic like Bobby Boucher/Push ya wig back like Marv Albert's toupee."
"El killin em, Dilla killin' 'em/Maybe we could hook up again back with 'Tin and them/Together again like armed forces on some Fantastic Four or Four Horsemen."
"Cyclops, Wolverine and the Nightcrawler/Went to a bar, and yo, they had dollars/Rolled an Impala, hittin' all switches/While Richie Rich Riches, pulls all the bitches."
Source:
20 Hip-Hop Songs Featuring the Best Comic Book References