20 of the Best Jay Z Subliminal Disses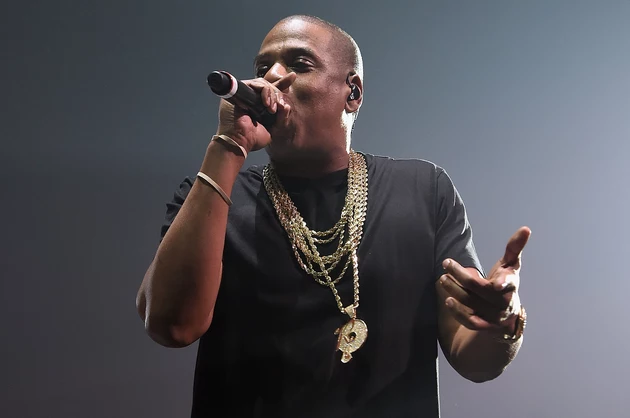 Heavy is the head that wears the crown, unless you tilt it like a New York Yankees cap, as Jay Z has for the better part of the last two decades. Regal in his countenance, the Brooklyn don has rose from the brick and mortar that is Bed-Stuy's Marcy Housing Projects and now sits on a throne that includes a $200 million home, assets galore and the bragging rights of being arguably the greatest rapper to ever pick up a mic.
These days, Jay Z may play the back and positions himself above the fray that is gossip, scandal and rap battles, but once upon a time, the Roc Nation boss was quick to take on any challengers and rising to the occasion more than not. After placing his flag in the dirt with his classic album, Reasonable Doubt, in 1996, it would be a few years before Jay would find himself as the hunter and the hunted, which would occur after dropping his sophomore effort, In My Lifetime, Vol. 1, which would net the rapper his first platinum plaque.
More success would bring more enemies and envy, as Hov would soon learn after finding himself in rap disputes with the likes of heavyweights like Ma$e and Prodigy of Mobb Deep, as well as more obscure talent like Meeno and Jayo Felony. But it would be his epic war with Nas that would certify his rep as a formidable battler of the highest order and would lessen resistance to his claims of being the undisputed king of rap.
Although Jay Z has had no problem calling out rappers by name, as he has done on numerous occasions, a substantial amount of damage was doled out to his opposition in the form of subliminal disses, where he would hint at who he was speaking ill of without providing an identity for the target in question. Playing a big part in popularizing the trend, Jay Z, who will be the first rapper to be inducted into the Songwriters Hall of Fame this year, is considered by many to be one of the craftiest when it comes to veiled jabs and has influenced MCs like Drake, Kendrick Lamar, J. Cole and others to carry on tradition.
To celebrate Jay Z's most sneakiest digs, we've compiled 20 of the more notorious subliminal disses he's levied against your favorite rapper.
"Always gotta be the weakest nigga out the crew/I probably make more money off yo' album, than you/You see the respect I get every time I come through/Check your own videos, you'll always be number two/Niggas talking real greasy on them R&B records/But I'm Platinum a million times nigga, check the credits/S. Carter, ghostwriter, and for the right price/I can even make yo' shit tighter"
"Using my name in vein like I won't damage the boy/You think niggas was shooting your fat ass out of canons before/Niggas is pompous, first they in Evil Kanevil jumpers/Then they turning over Rovers like they want it with Hovah/It's not about rich and po', nigga, it's about Rich and Po'/Understand I'm here to get this dough"
"Me and the boy A.I. got more in common than just balling and rhyming/Get it? More in Carmen/I came in your Bentley backseat, skeeted in your Jeep/Left condoms on your baby seat/Here nigga, the gloves is off, the love is done/It's whatever, whenever, however nigga – one/And since you infatuated with saying that gay shit/Yes you was kissing my dick when you was kissing that bitch"
"Where is all the ice with all the platinum under that?/Those ain't rolex diamonds, what the fuck you done to that?/Y'all rapping-ass niggas, y'all funny to me/Selling records being you, but still you want to be me/I guess for every buck you make it's like a hundred for me/And still you running around thinking you got something on me"
"Lost One" Featuring Chrisette Michele
Assumed Target: Dame Dash
"I heard motherfuckers saying they made Hov/Made Hov say "Ok so make another Hov"/Niggas wasn't playing they day role/So we parted ways like Ben and J-Lo/I shoulda been did it but I been in a daze though/I put friends over business end of the day though/But when friends' business interests is they glow, ain't nothing left to say though/I guess we forgot what we came for"
"It's hard to do when you've got nothing to prove/Everybody know you better, you in a lose lose/Cause even when you win, ultimately you lose/Real niggas like, 'Why Hov talking to dude?'/You sellin' low too, only time you went plat/My chain was on your neck, that's an actual fact"
"The game's fucked up/Nigga's beats is bangin', nigga your hooks did it/Your lyrics didn't, your gangsta look did it/So I would write it if y'all could get it/Bein' intricate'll get you wood, critic"
"On to the Next One"
Assumed Target: Def Jam Records
"Baby I'm a boss, I don't know what they do/I don't get dropped, I drop the label/World can't hold me, too much ambition/Always knew it'd be like this when I was in the kitchen"
"I'll help you out, here's what you do/You gonna need a wide lens cause that's a ver' big shoe/And you got a couple of Beans and you don't have a Clue?/You situation is Bleek, I'mma keep it real cause/Fuckin' with me, you gotta drop Amil/'Cause if you gonna cop somethin' you gotta cop for real"
"It's like when niggas make subliminal records/If it ain't directed directly at me, I don't respect it/You don't really want it with Hov, for the record/I put a couple careers on hold, you could be next kid/Keep entering the danger zone/You gon' make that boy Hov put your name in a song/If you that hungry for fame, motherfucker c'mon"
"Trouble"
Assumed Target: Lil Wayne
"You little niggas ain't deep you dumb/You niggas ain't gangsta, you gum, I chew lil' niggas/Hock-too, spew lil' niggas/I can only view lil'niggas like lil' niggas/But in lieu of lil' niggas trying to play that boy/I phew, phew lil' niggas with the latest toy/Unlike you lil' nigga, I'm a grown ass man/Big shoes to fill nigga, grown ass pants"
"Reminder"
Assumed Target: Joe Budden
"As if, I'mma let you niggas style on me/As if, now everybody's senile on me/Throwbacks, I threw 'em back, remember those, button-ups?/Young Hov, tell them ordinary Joe's button up/I destroy your 4.0's/And Benz 500's it all points to Ohh!"
"Watch What You Say to Me"
"I hear you baiting me lately, I been doing my best just to stay hater free/Still watch what you say to me/Sooner or later I take you up on your offer/And put you all in ya place like I'm replacing ya father/You talking, to the author, the architect of The Blueprint/My DNA in ya music, muthafucka you stupid?"
"Who you haters think you talkin' to, I'm the fuckin' boss/White on white, G4, hater get lost/I'm in the air I don't hear niggas corny raps/Ya nigga Hov is back, that nigga Hov is back"
"It's Hot (Some Like It Hot)"
"Ho bagger, no slacker, get this shit jumping/Like eight blacks, four crackers, get your ass jumped/Cris sipper, six dipper, wrist glitter nigga/Gat buster, ass toucher.. clit licker/Go against Jigga your ass is dense/I'm about a dollar, what the fuck is 50 Cents?"
"How she say Jay you can call the house for me/There's no respect at all, you betta check her dawg/She keep beggin' me to hit it raw/So she can have my kids and say it was yours/How foul is she? And you wifed her/Shit, I put the rubber on tighter"
"Pump It Up Freestyle"
Assumed Target: Joe Budden
"Ain't nobody dumpin' on Hov, you ain't in sanitation or sanitarium/What are you crazy Jay Z will bury em/I'll get you drug out the club they have to carry em/Go ahead bug out I'll Raid, nigga scurry/Worry not, I'm the Mike Jordan of the mic recording/It's Hovi baby, you Kobe, maybe Tracy McGrady/Matter fact you a Harold Miner, J.R. Rider, washed up on marijuana"
"Guns & Roses"
Assumed Target: Kobe Bryant
"And who knew dude that played ball for the NBA/Would make a mistake on the who knew estates, throw it away/Who knew that would be his last shot, who drew up that play/They giveth and they taketh life is cruel that way/But even a broken clock is right at least two times a day/You could have turned guns into roses like two times today"
"Light Up"
Assumed Target: Dame Dash
"The summer's ours, the winter too/Top down in the winter, that's what winners do/And to these niggas I'm like Windows 7/You let them tell it, they swear that they invented you/And since no good deed go unpunished/I'm not as cool with niggas as I once was/I once was cool as the Fonz was/But these bright lights turned me to a monster"
"Change the Game"
Assumed Target: Jayo Felony, L.A. Gang Members
"I wear more bling to The Source and Soul Train's/More chains than rings, niggas won't do a thing/I bangs the four-four in plain, daylight I'm deranged/Spray right at your brain; by the way this is Hov'/One shot Dillinger, one shot killin ya/It's only one Roc La Familia"
Source:
20 of the Best Jay Z Subliminal Disses