20 Times Rappers Big-Up Donald Trump in Their Lyrics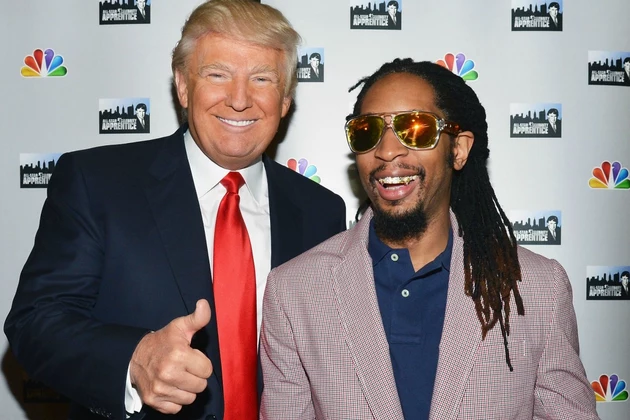 Throughout the 2016 presidential election, hip-hop has been in almost total accord when it comes to Donald Trump; as YG put it, "Fuck him." The xenophobic rhetoric that got him elected didn't sit well with Black artists on the whole, and everyone from T.I. to Eminem spoke out against the orange one.
But it wasn't so long ago that rappers were enamored with Trump, or at least what he stood for. His wealth alone was enough to attract the admiration of rappers, who gloated about apartments at Trump Tower they'd only slept in once. To be affiliated with Trump or his properties was to include oneself in the elite class of citizens with enough money to do so. His politics had not yet come to the surface in the 1990s and 2000s, but once he started denouncing Latinos and Muslims, rappers began jumping ship at record speed.
A recent CNN piece found that between 1989 and 2016, Trump was mentioned at least 318 times in rap lyrics. Between 2015 and 2016, 83 songs have mentioned Trump; most of the mentions have been negative.
Trump used to be pictured hanging around people like Diddy and Russell Simmons, and made an appearance on The Fresh Prince of Bel-Air in 1994. KRS-One said Trump "was a friend to hip-hop back in the day" and G-Unit even had him do drops for their mixtapes. But now the same artists who have used him as a status symbol in their lyrics are slamming him; Rick Ross floated out the idea of assassinating Trump "like I'm Zimmerman" after once saying his "bank account on Donald Trump," and Mac Miller called Trump a "racist fuckwad" years after naming a song after the magnate.
So as the country continues to roil over the election of Donald Trump, XXL takes a look back at when the now newly elected president got props in rap lyrics through the years.
"Money Is My Bitch" (1996)
"Niggas always expect to see us two together, stable/The best couple they seen since Trump and Marla Maple."
"Richest nigga in my hood, call me Donald Trump/The type of nigga to count my money while I smoke a blunt."
"Incarcerated Scarfaces" (1995)
"Poisonous sting, which thumps up and act chumps/Rae's a heavy generator, but yo, guess who's the Black Trump?"
"Hip Hop Quotables" (2003)
"I buy cars with straight cash, have meetings with Donald Trump/Y'all meet with Honda, no payments for 12 months."
"I'm way up front, stop playing, don't front/Used to want dough like Jay Z but now I'm thinking Donald Trump."
"Get money like Donald Trump, Double barrel on that pump."
"Determined" (2009)
Kendrick Lamar Featuring Ash Riser
"Homies on the block can say whatever they want/I don't wanna be a dealer, I wanna be a Trump—Donald that is."
"We Gon' Make It" (2006)
Diddy Featuring Jack Knight
"I spend absurd money, private bird money/That Bill Gates, Donald Trump, Bloomberg money."
"Off the Corner" (2014)
Meek Mill Featuring Rick Ross
"Going Donald Trump numbers on the corner/I made a million on that corner."
"Get It (DT)" (2011)
Big Sean Featuring Pharrell
"I'm tryna stuff em until I can't fit no more, I'm talking Donald Trump level."
"Song for the Ville" (2010)
"Too much spinach to eat for niggas beefin', so I'm out here trick or treatin'/Can my niggas comprehend? Bill Gates, Donald Trump, motherfucker let me in."
"We tryna get money so we can be livin' like Trump/You can't slap that cuz you fall into a slump."
"Get Down" (2004)
Lil Wayne Featuring Birdman
"Throw my weight like Sherman Klump/I gotta hold up my estate like Donald Trump."
"Put Ya in Da Game" (2009)
Fat Joe Featuring OZ and T-Pain
"Now she lookin past y'all, cause your boy's in a slump/I took her out of the 'jects, the top floor of the Trump."
"Time to flip the work, make the block bump/Boys from the hood call me black Donald Trump."
"I'm on, ridin' with my 12 gauge pump/Been a boss from the jump, go getta like Trump."
"But now I break down all my bales in Ferragamo/Hugo Boss jumper 'cause I just Donald Trump you."
"Bill Gates, Donald Trump, let me in now/Spin now, I got money to lend my friends now."
"Constantly Hating" (2015)
Young Thug Featuring Birdman
"Yeah thumbs up/I've seen more holes than a golf course on Donald Trump's course."
"So Appalled" (2010)
Kanye West Featuring Swizz Beatz, RZA, Pusha T, Jay Z and CyHi The Prynce
"I'm so appalled, Spalding ball/Balding Donald Trump taking dollars from y'all."
Source:
20 Times Rappers Big-Up Donald Trump in Their Lyrics