Eminem's New Grammy AD Campaign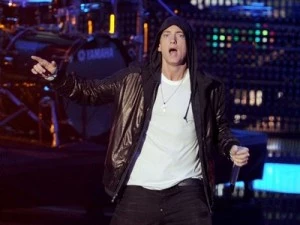 Eminem is in headlining the Recording Academy's Music Is Life Is Music social-networking and promotional campaign. The spot features the camera "literally walking through Eminem's life."
The 30-second spot opens with an illustrated interpretation of Em's 8 Mile trailer park, while an announcer says, "Music is a last chance, a last hope, a last shot. Music is turning demons into demos into multiplatinum monsters." There's a tribute to Eminem's late friends Ronnie and Proof, who appear in a digitally produced cemetery, then the voice-over says, "Music is battling through the haze". There are shots of newspaper clippings about Slim Shady's drug addiction and divorce onscreen. As the spot ends, the music rises into the chorus of Eminem's"Not Afraid." Check it out here..
Eminem is in the first of three upcoming Grammy commercials.
The Grammys air February 13th at 8 pm on CBS.