Jadeveon Clowney Blows Up Michigan As Denard Robinson Sets Record In Outback Loss [Video]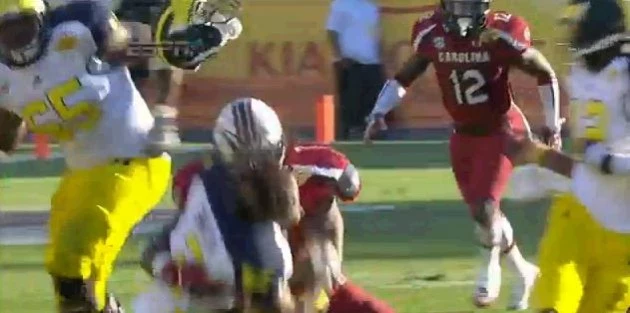 Michigan's momentum was taken away by South Carolina's Jadeveon Clowney in the Outback Bowl, on what most are calling the best defensive play of 2013.
After South Carolina should have gotten the ball on a missed 4th down conversion, Clowney decided to blow up the Michigan backfield and take the ball himself.  The Outback Bowl was easily the best bowl game of the season so far thanks to this hit.
Subscribe to Club 93.7 on
The game had four lead changes in the final quarter, before being decided by a long TD pass with 11 seconds to go.
Denard Robinson was able to set the NCAA record for career rushing by a quarterback with 4,495 yards.  After the game Robinson told reporters that, "I really don't worry about the record, I worry about winning the game, and that was the biggest thing. Winning the game."
Check out the Outback Bowl Recap
Subscribe to Club 93.7 on