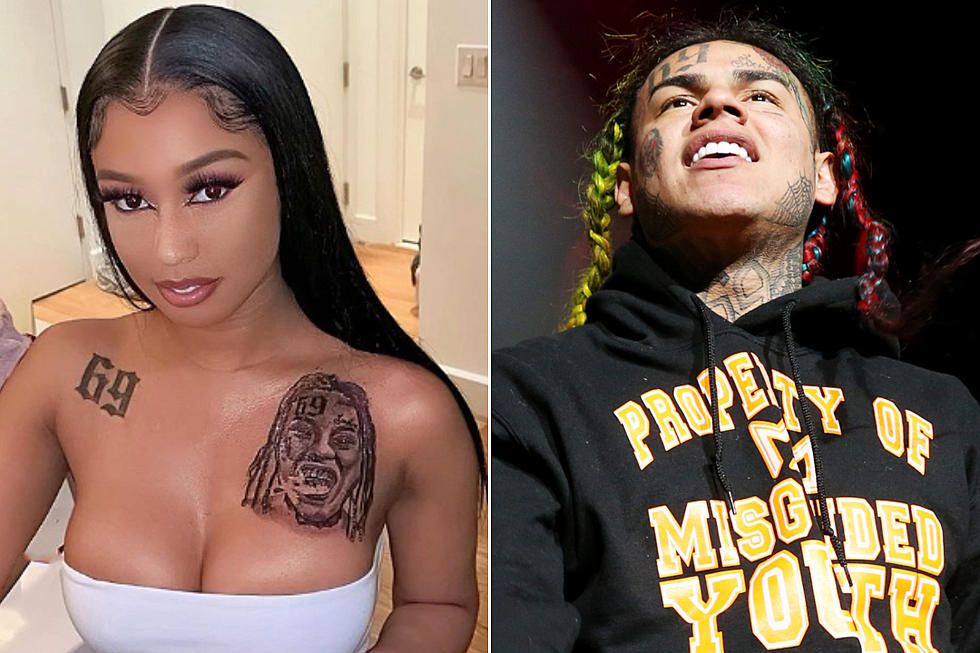 6ix9ine's Girlfriend Gets Massive Tattoo of Rapper's Face
__ohsoyoujade via Instagram / Bennett Raglin , Getty Images
While 6ix9ine is currently sitting behind bars, his girlfriend Jade is doing the most to make sure he feels her love.
On Tuesday (May 7), Jade uploaded a selfie of herself and her brand new tattoo. The newly inked tattoo features 6ix9ine's entire face, including the Brooklyn rapper's own face tats. In an effort to troll her followers, Jade indicates that she got a photo of Chris Brown's face tatted on the front of her right shoulder.
"Just got Chris Brown tatted shit crazy ‍♀️," Jade wrote in her caption.
Clearly, that's not C. Breezy. After Tekashi and the mother of his child Sara Molina split, Jade has been doing everything she can to rep her man's set. Prior to her latest ink, Jade had gotten the number 69 tatted in the front of her left shoulder. Jade, who, along with her sister, filed a lawsuit against Cardi B after accusing the rapper of having her assaulted in a bar last August, called out "washed up rappers" for attempting to tarnish 6ix9ine's brand.
"I'm a just sit back and watch all these washed up rappers talk shit. Y'all got nothing better else to do," Jade said in an Instagram story on Feb. 3. "Y'all clowns got too much time on ya hands. Fuck the Instagram shit y'all bitches and niggas be real life broke."
6ix9ine was arrested on Nov. 19, 2018 for racketeering conspiracy, firearms and drug trafficking charges related to his gang affiliation with the Nine Trey Gangsta Bloods. The once chart-topping rapper alleges he has a plan to be released from jail by September, but no details regarding his freedom have been confirmed.
Check out Jade's new ink dedicated to 6ix9ine below.
See Photos of 6ix9ine on the Red Carpet and More