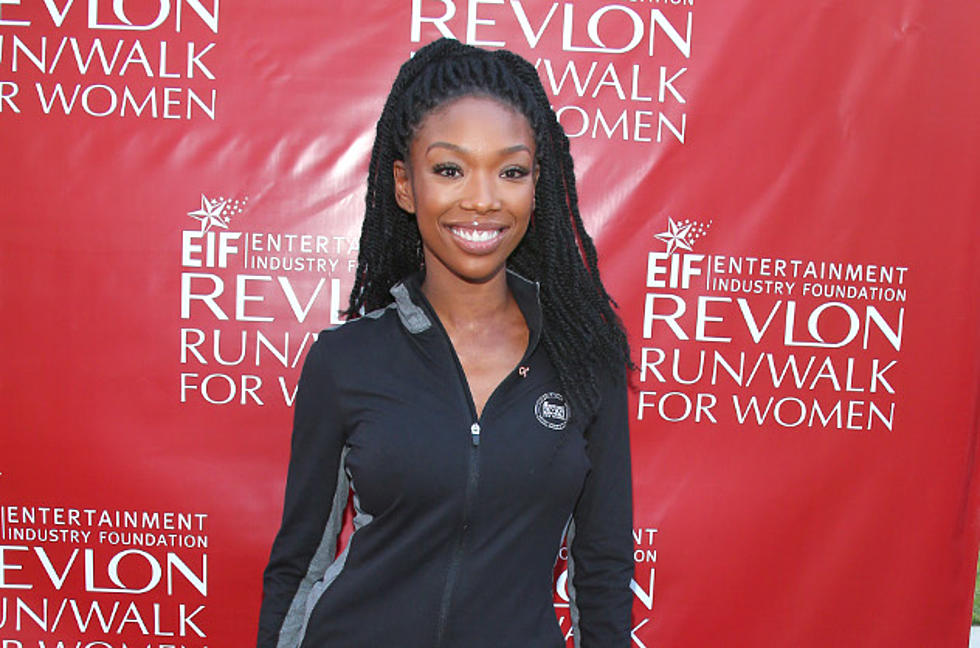 On Brandy Norwood's Career and Why She's R&B's Isiah Thomas
Mike Davis, Getty Images
R&B singer Brandy and NBA Hall of Fame point guard Isiah Thomas have a lot in common. This may be a shock considering the two names have likely never been mentioned in the same breath, but during the primes of their careers, they were both among the elite in their respective professions, but now they are seldom celebrated as the game changers they are.
Let's start with "Zeke." Aside from Magic Johnson, Isiah Thomas was arguably the best point guard in the NBA during the league's '80s golden years. Already a household name due to his star turn as an All-American and NCAA champion at the University of Indiana, Thomas would be drafted as the second overall pick in 1981, by the Detroit Pistons. A seasoned floor general and a competitor of the highest order, what he lacked in height and girth he compensated for with heart and skill, serving as the player most responsible for the Pistons late '80s dominance. But, despite leading the Pistons to three straight NBA Finals and coming away with two rings to show for his troubles, controversy has often overshadowed his stellar career.
To youngsters more familiar with her appearances on BET jock-opera 'The Game,' it may be a surprise that Brandy Norwood was once one of the most recognizable faces in entertainment. Discovered by youth talent-monger Chris Stokes (Immature, B2K, etc) in the early '90s, she would eventually secure a recording contract with Atlantic Records. The teenage talent burst onto the scene with her self-titled '94 debut album, which would ultimately be certified 4x platinum and sell over six million copies world-wide off the strength of multiple hit singles ('I Wanna Be Down,' 'Baby,' 'Best Friend' and 'Brokenhearted'). With an easily accessible sound and lyrics that were more sophisticated than the usual teeny-bopper fare, but still age appropriate, the album was an immense success with critics and fans alike, turning her into an overnight sensation. Multiple music award wins soon followed, as well as a starring role in her own TV sitcom 'Moesha' and other acting opportunities.
In preparation for her sophomore album, 'Never Say Never,' Brandy linked up with a rising talent by the name of Rodney "Dark Child" Jerkins, whose production would play a major part in the evolution of R&B in the late '90s. Tasked with assisting the songstress in transition to a more mature and progressive sound, the pairing of the two talents was a home run. The album debuted at No. 3 on the Billboard Charts, ultimately selling 16 million copies worldwide and becoming one of the most commercially successful R&B albums of the decade. The album's lead single, 'The Boy Is Mine,' featuring rumored rival Monica, was a smash hit, giving Brandy her first No. 1 single and netting her a Grammy award for Best R&B Collaboration. 'Never Say Never' signaled her coronation as a certified star and household name. It seemed as if the girl that was handpicked by the late Whitney Houston (which is a bit ironic, given her own much-discussed troubles) for the leading role in the blockbuster TV adaptation of Cinderella could do no wrong.
But her good girl image would soon turn bad. Her various highly publicized flings (one of which resurfaced with Fredro Starr's recent interview with Power 105's The Breakfast Club) over the years had raised an eyebrow or two, but in 2002, the singer would face her first major controversy. Following the release of her third album, 'Full Moon,' it was revealed that the singer was pregnant with her first child. Producer Robert Smith, who Brandy met while collaborating on tracks for 'Full Moon,' was announced as the father of the child and the two were believed to have been married.
The couple would separate within a year, with Smith ultimately revealing that the news of their marriage was a ruse to protect Norwood's clean image. Her music career also tanking didn't help matters either. While 'Full Moon' was far from a flop, earning Brandy her highest debut on the Billboard charts and receiving two Grammy nominations, the album topped out at three million albums sold worldwide, a huge drop-off from the mass success of 'Never Say Never.'
Then in 2004, the songstress released her fourth solo album, 'Aphrodisiac.' Although regarded as her most complete album by most critics and continuing her streak of top five debuts, the album continued her decline as a Soundscan heavyweight. Two years later, she faced her biggest trial in the public eye after being involved in a multi-car collision, which left a 38-year-old woman dead. She was accused of being responsible for the tragedy by the California Highway Patrol. Although she would later be cleared of any wrong-doing following a lengthy investigation, the bad publicity was irreversible. Putting the ordeal behind her, she got back in the studio and released her fifth album, 'Human,' which fell on deaf ears, maxing out at a dismal 214,000 units sold. This all but served as the final nail in the coffin of the relevance of one of the most viable R&B stars of this generation.
For all of their peaks and valleys, both Brandy and Isaiah have weathered the storm. The chanteuse currently has a supporting role as "Chardonnay" on the hit TV series 'The Game' and she has an upcoming album release on the horizon. Isaiah has made a career as a basketball commentator for NBA TV and is one of the more highly featured faces on the network.
But even with one of the most successful runs of the '90s and two NBA titles under their respective belts, public perception does not reflect their accomplishments. When a basketball fan lists off the all-time great players, Isiah often doesn't get mentioned until deep in the conversation, while '80s contemporaries Magic, Bird, Dr. J, and Jordan (two of whom didn't win a title during Isiah and the Pistons prime) are dominant factors in the discussion. Brandy's legacy doesn't fare much better. Despite being one of the most bankable stars in contemporary R&B during the prime of her career, she isn't particularly revered by '90s aficionados. Anecdotally on Twitter, when reminiscing on the classics from that decade, many fail to drop her name and songs amongst their favorites.
Unlike the fanfare that stars like Mariah Carey, TLC, Beyonce, and the late Aaliyah get from the media and fans, Brandy, although having sold millions of records, is relegated closer to the ranks of the talented but less impactful Myas, Monicas and Faith Evanses. All great artists in their own right, they haven't experienced anywhere near the success Brandy has been able to attain throughout her career. More than a random singer with a couple of hits, Ray J's sister has produced some of the decade's biggest hits and was an integral part of many '80s babies childhoods. While some overlook, or may have even forget her dominant run, we sure haven't at The Boombox and appreciate Brandy as the phenom that she is.
*Presses play on 'Never Say Never.'*