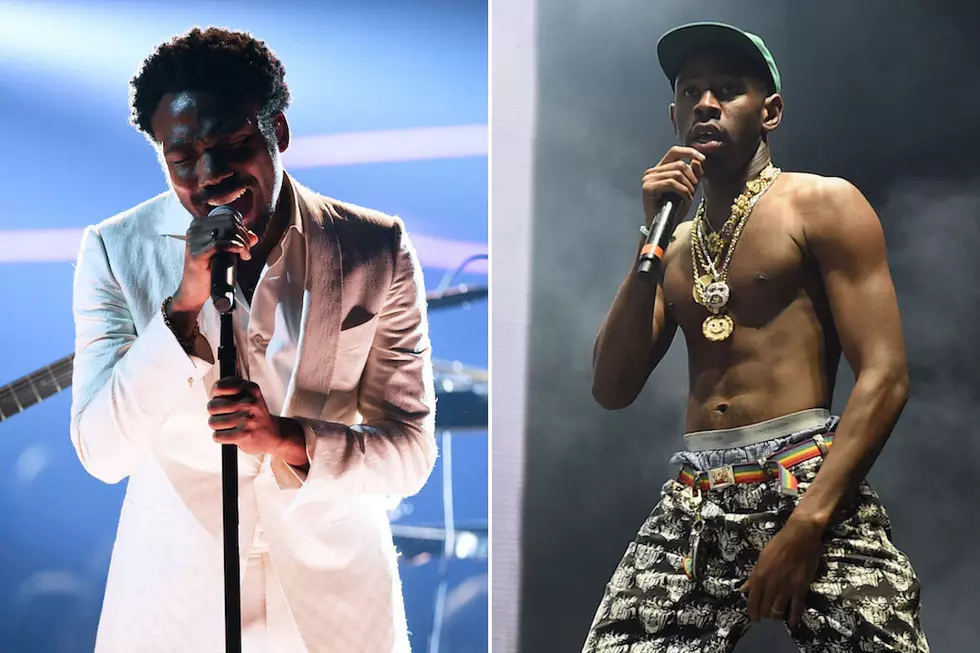 Childish Gambino Adds More Tour Dates With Tyler, The Creator as a Special Guest
Kevin Winter, Getty Images (2)
Childish Gambino and Tyler, The Creator are not going on tour together. Despite previous reports that Tyler would join Childish for select tour dates this fall, the news is false. A representative for Childish Gambino has confirmed there are no tour dates with Tyler, The Creator planned.
Childish Gambino is magnifying his already-hectic schedule even more this year, as he is adding on some additional dates for his 2018 tour. Continuing his leg across North America, the Awaken, My Love! rapper is recruiting Tyler, The Creator as a special guest for the new dates.
Gambino and Tyler will be hitting up San Jose, Calif. on Oct. 2, which follows in the footsteps of his Vancouver, B.C. show, which will have special guest Rae Sremmurd. The five new dates added on to the tour will also hit up Los Angeles, Calfi., Denver, Co., and Phoenix, Ariz. before wrapping up on Oct. 12 in Nashville, Tenn. It has yet to be revealed what venues the shows will take place at.
It's been an extremely productive 2018 for Gambino, who is also known as Donald Glover, as he launched season two of his FX television series, Atlanta, last month, which has been met with rave reviews. He will also be the voice of Simba in the live-action remake of The Lion King and has a prominent role in the upcoming Solo: A Star Wars Story film.
Check out the additional dates with Tyler, The Creator for Childish Gambino's tour below and purchase your tickets on his official website.
Childish Gambino's Additional 2018 Tour Dates
Oct. 2 - San Jose, Calif.
Oct. 3 - Los Angeles, Calif.
Oct. 5 - Phoenix, Ariz.
Oct. 9 - Denver, Co.
Oct. 12 - Nashville, Tenn.
Childish's Full Tour Dates
Sept. 6 – Atlanta, Ga. - Infinite Energy Arena
Sept. 8 – Chicago, Ill. - United Center
Sept. 10 – Toronto, O.N. - Air Canada Centre
Sept. 12 – Boston, Mass. - TD Garden
Sept. 14 – New York, N.Y. - Madison Square Garden
Sept. 18 – Philadelphia, Pa. - Wells Fargo Center
Sept. 19 – Washington, D.C. - Capital One Arena
Sept. 22 – Houston, Texas - Toyota Center
Sept. 23 – Dallas, Texas - American Airlines Center
Sept. 26 – Los Angeles, Calif. - The Forum
Sept. 27 – Oakland, Calif. - Oracle Arena
Sept. 29 – Seattle, Wash. - Key Arena
Sept. 30 – Vancouver, B.C. - Rogers Arena
Check Out the 2018 Hip-Hop Music Festivals You Need to See