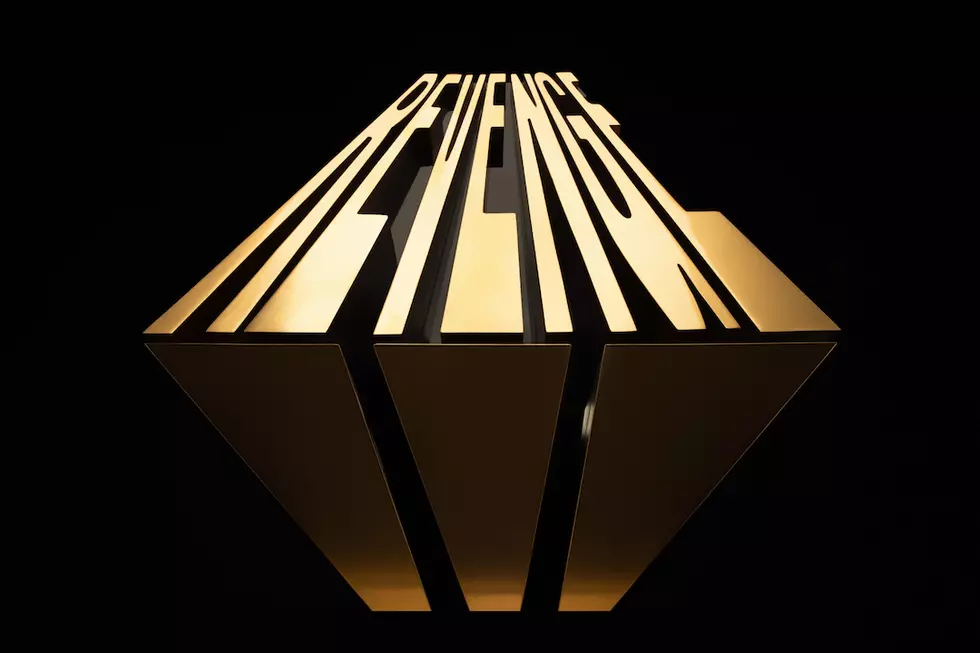 Dreamville 'Revenge of the Dreamers III': 20 of the Best Lyrics
Dreamville / Interscope
When talented individuals concentrate their forces for the greater good of creativity, the results can be historic. Just ask J. Cole, who has spent the better part of the decade recruiting prospects while building his Dreamville Records roster into one of the most formidable units in hip-hop. Founded by Cole and Ibrahim Hamad in 2007, Dreamville elevated its profile with Cole's own ascension up the ranks, allowing early signees like Omen and Bas to gain a sizable following through guest appearances and solo projects.
Since then, the label's stable of talent has expanded, with Cozz, Ari Lennox, J.I.D, EarthGang and Lute joining the team, making Dreamville one of the more acclaimed rap collectives of the modern era. Releasing their first compilation, Revenge of the Dreamers, in 2014, Dreamville has slowly but surely become a bonafide powerhouse. Producing and developing talent with star potential, the label has become a breeding ground for quality content, the latest of which is Revenge of the Dreamers III, the crew's most anticipated release to date.
Running 18 tracks in length, Revenge of the Dreamers III is loaded with guest appearances, with DaBaby, T.I., Young Nudy, Reason, Maxo Kream, Mez, Vince Staples, Ty Dolla Sign, Dreezy, Buddy, Childish Major, Smino and Saba all popping up on the album. However, the central focus is J. Cole and company, all of whom turn in stellar performances that give reason to believe that Dreamville and its stable of prospects will be a force in the music scene for years to come.
With Revenge of the Dreamers III, XXL highlights 20 lyrics from the compilation that stand a cut above the rest. Get your rewind buttons ready.
"Under the Sun"

Dreamville Featuring J. Cole, DaBaby and Lute

"She call me daddy like grandmama baby/If this Sunday dinner, my hand on her gravy/I been on the craziest wave, if I'm on the stage/An M is my minimum wage/This ain't no kennel, behave/Niggas is with all that barking, we send 'em a stray/So in a way we the dogcatchers/How many bullets your dawg catchin'?" —J. Cole

"Under the Sun"

Dreamville Featuring J. Cole, DaBaby and Lute

"Niggas be judging my moves, but please tell me, what have you done?/My cousin might air out the party for fun/Pistol grips get to squeezing/Wish a nigga would like Liam Neeson/I don't even need a reason, loyalty over treason/Bitch nigga, come and see me/Put some respect on my name/What side of my city I claim" —Lute

"Under the Sun"

Dreamville Featuring J. Cole, DaBaby and Lute

"I just put diamonds on all of my teeth, now they probably think I ain't intelligent/In the homicide unit interrogation, asking questions, you know I ain't tell 'em shit/Bitches call me a jock, all-American/I'm at the top of my class with my letterman/I remember back in college, bitches knocking on my dorm door/I ain't never let 'em in" —DaBaby

"Down Bad"

Dreamville Featuring EarthGang, J. Cole, Bas, J.I.D and Young Nudy

"Okay, lil' dirty, nappy-headed East Atlanta nigga, father said that I was a force/.44, Hank Aaron chrome/Wanna make it home? Then get out the Porsche/Let a nigga cover Fader 'fore I have to fade a nigga at the Fader Fort/It's tomato or tomato, either way, the boy the greatest/Play it, I won't say it no more" —J.I.D

"Down Bad"

Dreamville Featuring EarthGang, J. Cole, Bas, J.I.D and Young Nudy

"I was just fucked up, I was just down, down bad/Picked up the pad, picked up the slack/Pick of the litter, don't litter no bag/Bassy been pickin' up racks, raps comin' clearer than Acuvue 2/And I'm back in the booth/Got 'em hackin' a Shaq 'cause they lackin' the juice/Niggas droppin' the ball, they on 'Shaqtin' a Fool'" —Bas

"LamboTruck"

Dreamville Featuring Cozz, Reason and Childish Major

"Made a living staying posted like I'm Diesel/This no sequel/This that third times a charm and I been charming, Cozz been evil/You get clips, this hammer regal/Unexpected, there you have, it's been affected/So ill, these words infectious" —Reason

"Swivel"

Dreamville Featuring EarthGang

"I done made it up, I done made it out/I done made a way, we been makin' waves, we been making sounds/Rappers hella fake, they papier-mâché/Like piñata, they can't wait to break, I can animate" —Doctur Dot

"Oh Wow...Swerve"

Dreamville Featuring J. Cole, Zoink Gang, Key! and Maxo Kream

"You want my spot, well maybe after, nigga/So active on the radio, I'm radioactive, nigga/That's a bar, I had to give it to 'em/Never slouching, not even on couches in the living room/And I feel like the world is ending soon/Is there any good or bad? Well that's depending on you/And if you wake up in time/I know it's better to be sleep, that's why we hate the alarm" —J. Cole

"Oh Wow...Swerve"

Dreamville Featuring J. Cole, Zoink Gang, Key! and Maxo Kream

"The way I'm robbin', niggas say I'm gonna die/I bought a baby Draco carbon, that's a motherfuckin' lie/Stephen Curry on my hip, Klay Thompson, let it fly/Southwest Murder Block Crips, we don't die, we multiply/Maxo talk a lot of shit but is he really 'bout that life?/Is a pig's pussy pork and can a caterpillar fly?" —Maxo Kream

"Wells Fargo"

Dreamville Featuring Guapdad 4000, Buddy, EarthGang and J.I.D

"Father God in heaven above/I come to you as humbly as I know how/Off hella the drugs and I'm out of my mind/In the meantime, I'ma just smoke this loud/Put this shit on my tongue and this shit'll dissolve/Get a shot of Hennessy just to wash it down/All my White friends call me talkin' proper now/I got the BET's just so I'm hoppin' out" —Buddy

"Wells Fargo"

Dreamville Featuring Guapdad 4000, Buddy, EarthGang and J.I.D

"Hey, skrrt skrrt in a new thing/Throw the cash and she gettin' Raekwon like the Wu-Tang/I think I deserve me a Mulsanne/Me, you, and two or three hoes should do the group thing/Just don't fuck up the sheets, the Airbnb, and fuck off the lease/Bitch, mind your bees, I need peace of mind/I beat meat, delete, then be leavin' fine" —Guapdad 4000

"Sleep Deprived"

Dreamville Featuring Lute, Omen, Mez and DaVionne

"Used to be barely above water, now I float/Same bitches in my DMs used to take me for a joke/Niggas talk crow, shit behind my back and then call me bro/Like bro, you gotta match one before you blow/I always leave the message on seen 'cause I don't smoke/When really I don't fuck with half these niggas on the low/And that's just how it go" —Lute

"Sleep Deprived"

Dreamville Featuring Lute, Omen, Mez and DaVionne

"Had so many adventure times, we used to run from the jakes/To make it for Southside, we do whatever it takes/It was apartheid when my barber parted my fade/'Cause now I'm pulled left and right by Keisha and Adrinnae/All this shit gets so deep, man, I'm hoping y'all dive in/I don't fuck with surviving, I'm only thinkin' 'bout thriving" —Mez

"Sleep Deprived"

Dreamville Featuring Lute, Omen, Mez and DaVionne

"Turn into a big deal, but way realer than Black Friday/They let a visionary vibrate/Hoppin' through the Tri-State/I got this bird box simply off a blind date/Now I'm in a tryin' state/Turn into a horror story/Broke my heart to the point I had to find tape" —Omen

"Ladies, Ladies, Ladies"

Dreamville Featuring J.I.D and T.I.

"Had a girl that was a artist, she could draw, her name Tracy/She always outta line, making Mona Lisa faces/And we argue all the time, but we fuck like we crazy/She said her favorite thing is face painting/I used to have this White shorty, always hanging with the black folk/She used to bump Black Thought, I saw her using black soap" —J.I.D

"Costa Rica"

Dreamville Featuring Mez, Buddy, Jace, Reese LaFlare, Ski Mask The Slump God, Smokepurpp and Guapdad 4000

"Demons, they follow me deep in the dark/Niggas got problems with being a boss/We ain't been home but we hear all the talkin'/Hit 'em with hollows and clean 'em with salt/Salt in the wound and my heart in the cooler/Frozen like I gave my heart to my jeweler/Told him to make a new piece out of this/Ever since, I just can't give no fuck 'bout no bitch" —Bas

"Costa Rica"

Dreamville Featuring Mez, Buddy, Jace, Reese LaFlare, Ski Mask The Slump God, Smokepurpp and Guapdad 4000

"Got the Mike Jack' nose, just before the vitiligo/Norman Bates with the eights, I'ma go psycho/Laundromat with a temper, this a vicious cycle/Feel like Rihanna, bitches go wherever I go/Go against the grain like I'm battlin' the silo/I'm going out west like I'm motherfuckin' Fievel" —Jace

"Costa Rica"

Dreamville Featuring Mez, Buddy, Jace, Reese LaFlare, Ski Mask The Slump God, Smokepurpp and Guapdad 4000

"Niggas got me tight like Arthur's fist and shit/Like I'm not an arsonist and shit/Not a nigga that you wanna argue with/'Cause then you fucking with your future like Larsa Pippen, shit" —Mez

"1993"

Dreamville Featuring Buddy, Smino, Cozz, EarthGang, J.I.D. and J. Cole

"Had to leave the crime scene like criminals do/She wanna come to my crib and give me a genital smooch/Typical, typical, get the piccolo, skididdle, skedaddle/I sling peen like a lasso/That mean king save the queen from the castle/I grab the saddle/Prisoner to prescription, it's changed, jackal, Jack Daniels" —J.I.D

"Sacrifices"

Dreamville Featuring EarthGang, J. Cole, Smino and Saba

"She gave me her heart to hold, I still got that shit to this day/She ridin' with me on the road, she ridin' with me in the A/Huggin' the block, huggin' the block, okay/She gave me the gift of my son, and plus we got one on the way/She gave me a family to love, for that, I can never repay/I'm crying while writing these words, the tears, they feel good on my face, hey" —J. Cole