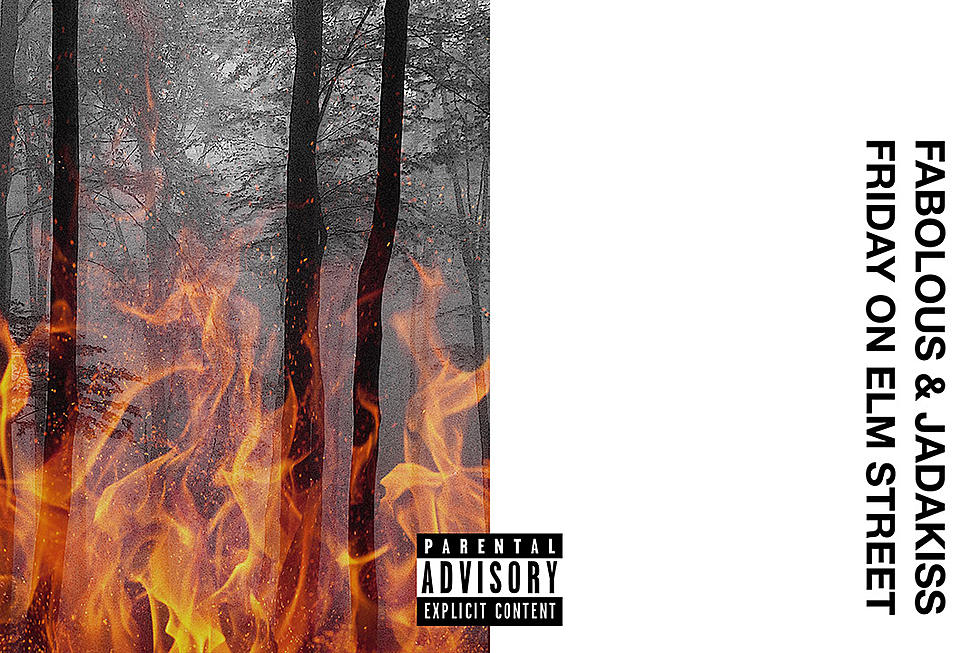 Fabolous and Jadakiss Slay the Competition on 'Friday on Elm Street' Album
Def Jam
It feels like an eternity since Fabolous and Jadakiss announced they were working on their collaborative Friday on Elm Street project. The album was announced at the beginning of the year, but touring and other scheduling obligations kept the two New York MCs from working on the album for months.
Despite the perhaps poor timing of so many collaborative projects dropping almost all at once, Friday on Elm Street largely lives up to the hype. Fabolous and Jadakiss have great chemistry as two veteran rappers. Fabolous' punchlines and swagger meld well with Jada's gruff voice and coke raps. Both rappers prove throughout the album why they've both been mainstays on the New York scene for decades now.
The horror themes come and go throughout the project, but when the rappers are in full murder mode, the album, well, slays. The "F vs. J Intro" has Jada delivering hard-as-nails lines like, "You can be as hard as whoever, I crack craniums/You know all my killings are brutal and spontaneous/I like this, pop out, soon as you hit the light switch
Run and then all a sudden you fall like the white chicks/Might have to crush your Adam's apple with the vice grips/You never see me during the day, I play the night shift." Meanwhile Fab keeps up with, "Now he in a awkward room tryna lock a goon/Like the shooter had a hood on, mighta been Dr. Doom/Sounded like a fifth or a nine, couldn't tell though/All a sudden, thunder, it mighta been Hoodie Melo."
On "Ice Pick," the horror continues as Jada teams up for some "Vincent Price type of shit" with his LOX groupmate Styles P with cries of "Kill! Kill! Kill!" Meanwhile Reazy Renegade's beat for "Stand Up" sounds like something straight out of the Halloween soundtrack.
Yet one of the finest moments of the album comes from the track that's the farthest from slasher flick-inspired raps. The Teyana Taylor-featured "Talk About It" asks some particularly hard questions about American society when it comes to race and how neither side of the political spectrum has done anything to change it. Jada asks, "Young girls raped and knocked up/Will Hillary release niggas that Bill locked up?" At the end of the track, Fab prompts, "Can we talk about it? Not just artists, but the players too/Y'all on the field, not the mic, but y'all can say it too/We need more Kaepernick and just what the rapper kickin'/We need more than Instagram posts with smart captions/Black actors, stop actin' and start action/Kerr got the credit, forgot about Mark Jackson, damn." It's a particularly sobering moment on an album that has a lot of otherwise other-worldly and larger-than-life imagery.
Friday is far from perfect, though. Future's duty on the hook for "Stand Up" seems like he's in a bit of autopilot mode. The remix to that track doesn't add to much to the project even with the additions of Yo Gotti and Jeezy. However, Fabolous and Jada have great chemistry and trade solid bars throughout.
There's a common issue when it comes to these collaborative projects. Not everything is going to be a monster hit on the scale of JAY-Z and Kanye West's Watch the Throne or Killer Mike and El-P's Run the Jewels. More often than not these kinds of albums come off more as fun diversions than must-listen records. Still, Fabolous and Jadakiss deliver an essential listen with Friday on Elm Street, an effort full of solid street raps that measures up to the expectations.
See New Music Releases for December 2017