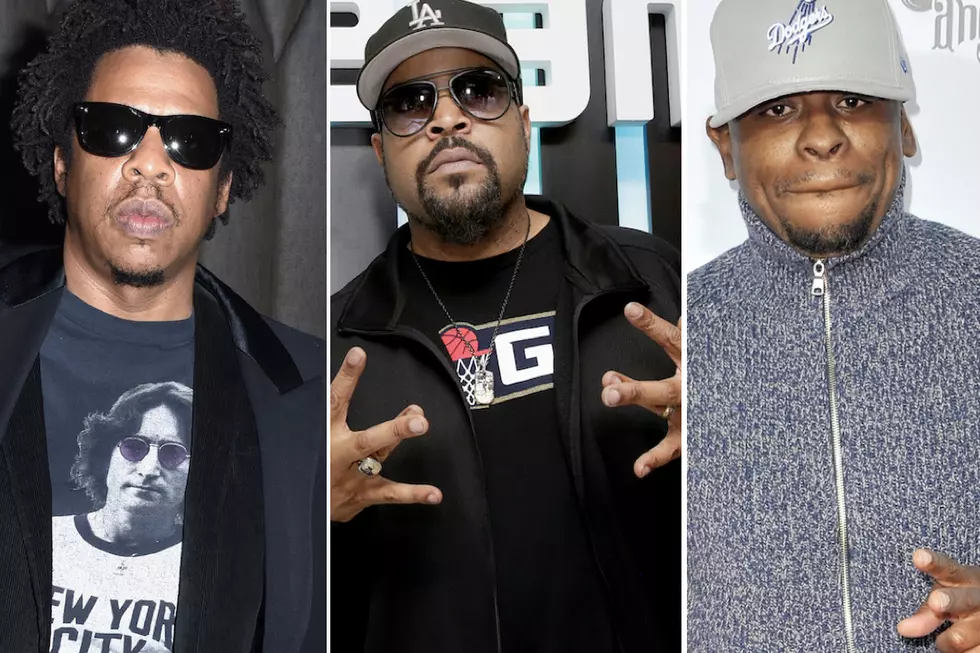 Fox News Guest Accuses Jay-Z, Ice Cube and Scarface of Anti-Semitism
Vivien Killilea / Rachel Murray / Allen Berezovsky, Getty Images (3)
The idea of anti-semitism in hip-hop once again snatched a ton of attention when LeBron James laced his Instagram story with 21 Savage's "ASMR" lyrics referencing "Jewish money." The topic surfaced once again in a new episode of Fox News' Tucker Carlson Tonight.
For this episode, which is hosted by Carlson, Hoover Institute's Victor Davis Hanson suggests that Jay-Z, Ice Cube and Scarface are a part of "rampant anti-semitism."
"We've got this whole trope now in rap music, all the major marquee rappers: Ice Cube, Jay-Z, Scarface. It's just rampant anti-Semitism," Hanson said. "And we saw Lebron James, our national icon, retweeting the anti-Semitic tweet of a rapper with no consequences. So the American people are saying to themselves, 'Wow, what are the rules?'"
Now, if you recall, Ice Cube faced some backlash for directing a perceived anti-semitic lyric toward N.W.A's former manager Jerry Heller on his 1990 N.W.A diss song "No Vaseline." For his part, Hov referenced the perceived wealth of Jewish people on "The Story of O.J.," rapping, "You wanna know what's more important than throwin' away money at a strip club? Credit/You ever wonder why Jewish people own all the property in America? This how they did it."
In a 2013 interview with Hardknock TV, Scarface claimed that Jewish people were responsible for the demise of what he felt was the core of rap culture. "I feel like we losing [hip hop]. I feel like the people that are in control of what hip hop does is so fucking white and so fucking Jewish until they don't give a fuck about what the culture and the craft and what it really is about," he said at the time.
Watch a Fox News guest accuse rappers Jay-Z, Ice Cube and Scarface of "rampant anti-Semitism" below.

See 65 Hip-Hop Albums Turning 20 in 2019