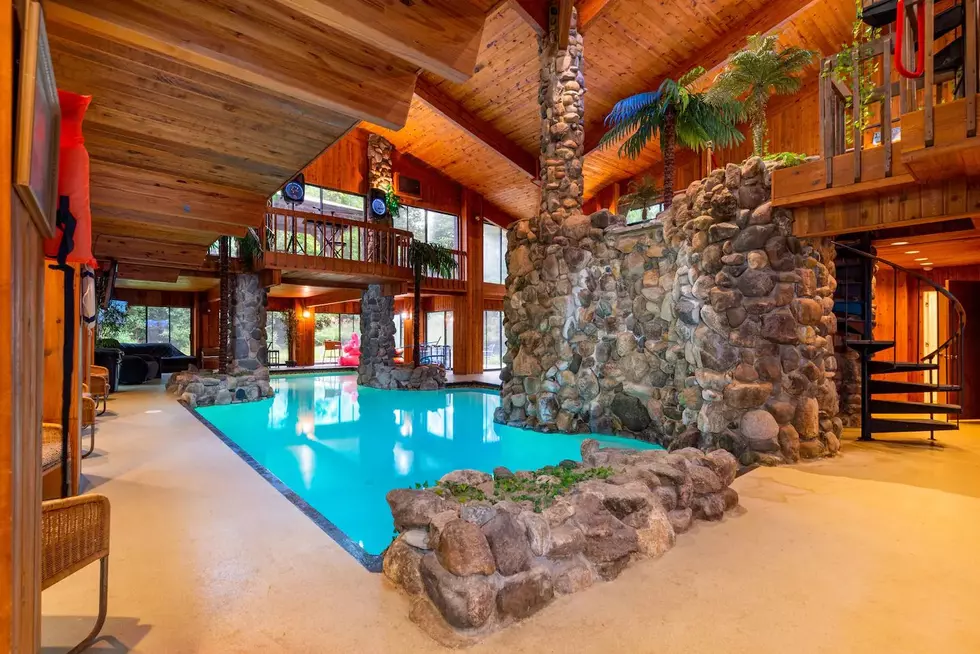 Sweet Bloomfield Airbnb Comes With Indoor Pool and Tennis Court
Airbnb
If leaving the state isn't your thing, this rental in Bloomfield Hills is for you.
Family reunions are cool and all, but how many times can you all go to grandma's house before you run out of things to do and get bored? Try something new with the family and go to a place that has everything you need for a weekend of fun.
Make the family reunion or friends getaway mean something. This Airbnb rental property in Bloomfield Hills is just the place to make memories without having to travel across the country. Not only will this property fit up to 16 guests, but it also has an indoor pool and indoor tennis court.
I would love to get a group of my family and friends and check this place out for the weekend. Available year-round, this place has everything you could need. It boasts six bedrooms, nine beds, and four bathrooms.
As far as entertainment goes, along with the pool and tennis court, this house has a pool table, sound systems that connects throughout the entire home, a ping-pong table, multiple bars, an outdoor patio and seating, and more. Also, don't stress about everyday living as it also includes a washer and dryer, kitchen, wifi, an EV charger, and more.
This place will cost you $7,532 for two nights, but don't let the sticker shock get to you. If you split that up 16 ways, it is only $470 per person for the weekend. That is not bad at all, especially when you have everything you need right there. Just chip in for food and you're golden. Check out the pictures below.
Source: Airbnb
Sweet Bloomfield Airbnb Comes With Indoor Pool and Tennis Court
This amazing Airbnb in Bloomfield Hills features an indoor pool, indoor tennis court, multiple bars, and more!
Spend the Night in This Spooky Hocus Pocus Cottage Airbnb
Get ready for everything that goes bump in the night, because the Sanderson sisters are back. To celebrate their resurrection, and their new movie "Hocus Pocus 2", they are inviting guests into a land of enchantment with a stay at a recreation of their magical Salem cottage. No detail has been spared to make your visit one you'll never forget. Only two lucky guests will have the chance to immerse themselves in this witchy world.
Feel like magic is on your side? Make sure you are ready to log on to Airbnb precisely at 1 pm on Oct. 12 for an exclusive stay on Thursday, October 20 for only $31.
Take a peek inside what awaits!
Live Your Best Life In Unique Lake Fenton Home
Look Inside Cozy Airbnb Voted Best Cabin in Michigan
Landing on the list of "Best Cabin Airbnbs for Every State" by
Trips to Discover
, this cozy Upper Peninsula cabin earned the bragging rights as best in Michigan.
Paradise View
in Paradise, Michigan is true cabin life with a a little upscale vibe. Located just 14 miles from Tahquamenon State Park & 1-1/2 miles from Paradise the cabin sits perfectly on the shore of Whitefish Bay. Inside you'll find 2 bedrooms, and 2.5 baths of comfort. Perfect for every season that Michigan has to offer this place has earned its title. Take a look inside!
This Linden House Should Come With a Lifetime Supply of Windex
This home in Linden, Michigan has stunning floor-to-ceiling windows.
Sadly, Windex is not included.