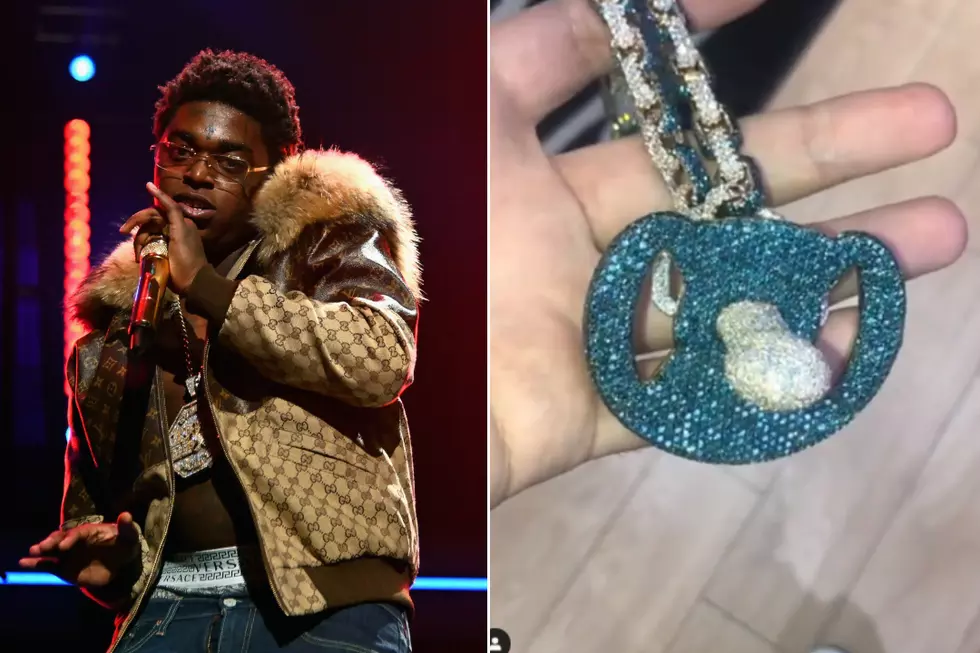 Kodak Black Buys $180,000 Diamond Pacifier: Report
Nicholas Hunt , Getty Images / Eliantte via Instagram
Kodak Black has reportedly been cooking up a decked-out necklace and matching pendant for the past few years. Now, the Project Baby's new bling is ready to rock.
According to a report TMZ published earlier today (May 6), the Florida rapper is set to receive an all-diamond necklace with a matching diamond pendant in the shape of a pacifier. The celebrity jeweler responsible for the one-of-a-kind necklace, Eliantte, tells the gossip site he and Kodak have been working on the design for years and now it's finally ready for Kodak to wear.
Eliantte says that the entire necklace and pendant contains 98 carats of blue and white diamonds. The diamond-coated pacifier has "Project Baby" written on the back, and hangs on a Hermes link chain. In total, the necklace and pendant cost the rapper at least $180,000.
It's evident that Kodak Black's got money to blow. When he's not throwing down stacks for jewelry, the Atlantic Records signee donates significant amounts of cash to charitable causes.
Last week (May 3), Kodak reportedly donated over $12,000 to help buy notebooks and pencils for children from low-income homes. Kodak's lawyer, Bradford Cohen, told TMZ that the rapper, who goes by Bill K. Kapri, donated $12,500 to help one girl named Paige Cook's goal to collect enough notebooks and pencils to give to all 7,600 students in the Cleburne Independent School District in Texas.
Check out Kodak Black's new piece below.
See Behind-the-Scenes With Kodak Black at 2016 XXL Freshman Class Cover Shoot