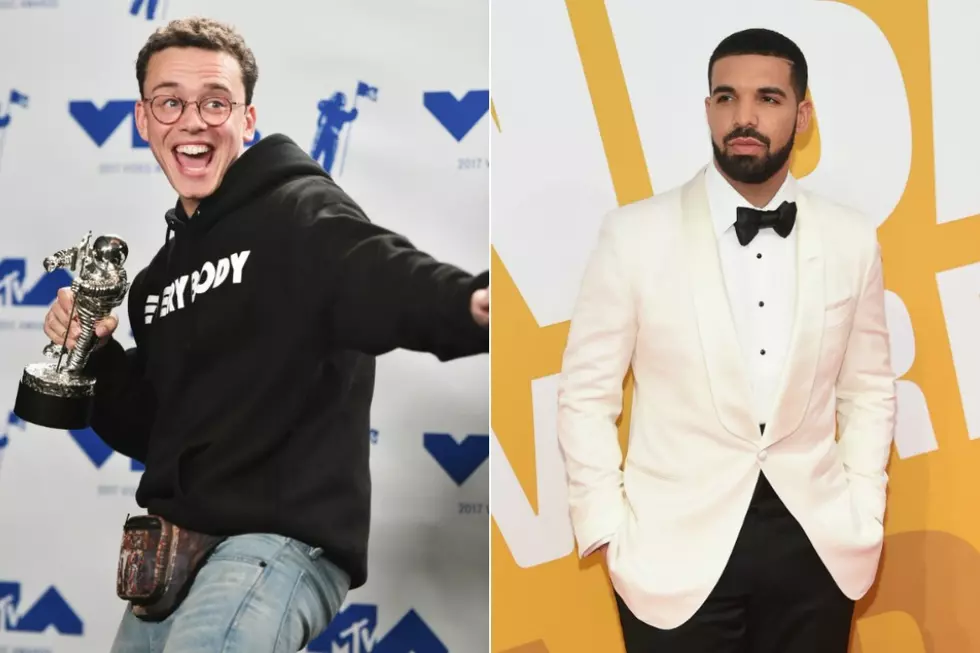 Logic Thanks Drake for Paving the Way for Him
Alberto E. Rodriguez / Jamie McCarthy, Getty Images (2)
As Chance The Rapper recently alluded to, Drake's immediate and seemingly infinitely sustainable success has arguably made it somewhat unpopular for some people to mark themselves as being fans of the Toronto rapper. Chano bucked against that trend in a recent interview, and now, Logic does the same.
Speaking with the folks at Montreality, Logic made some time to give thanks to Drizzy, who he says inspired him to sing on his own songs.
"I wanna thank you for paving the way for me man, because now I'm paving the way for youngins under me," says Logic. "Your music has taught me so much, when I thought I needed to be this rapper just rapping all the time. You said, 'Nah, you can rap, you can spit those bars, and you can sing and you can be yourself,'" he continued. "I don't think I've ever gotten the chance to say this, if you see this Drake, thank you for paving the way for me to be the best me that I can be."
Speaking on Drizzy during an appearance on The Tonight Show Starring Jimmy Fallon, Chance offered up his bit of praise to the rapper. "I love Drake," he said a few days ago. "I think we live in a time where people are ashamed to say how much they love Drake or enjoy what he does. I'm totally rebelling against that. I just want to say shout out to Drake and your whole team."
Watch Logic give thanks to Drizzy in the Montreality video below. The bit about Drake begins at the 1:12 mark.
See New Music Releases for November 2017