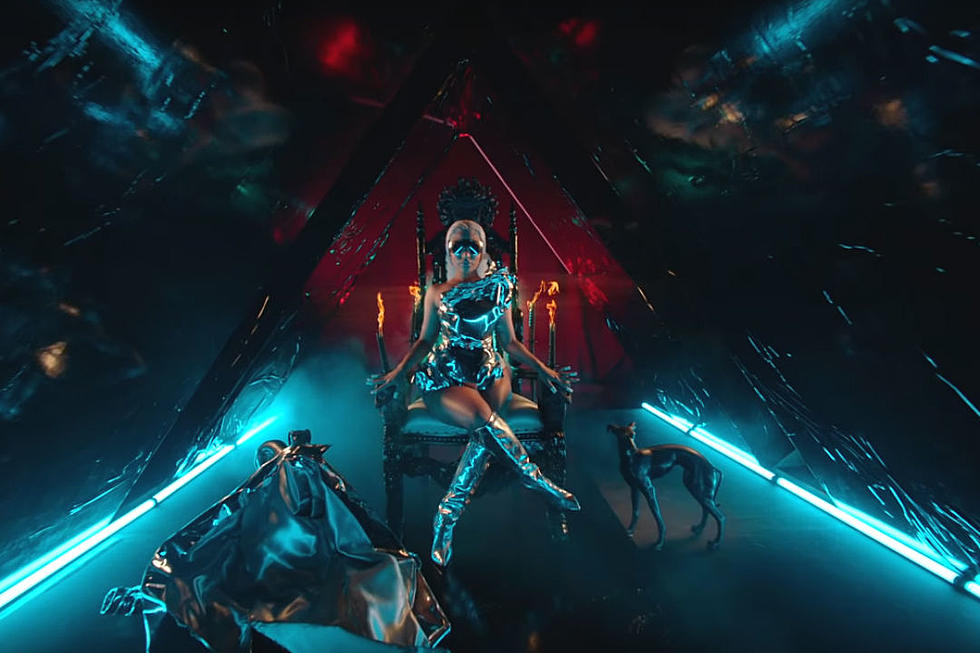 Nicki Minaj "Hard White" Video: Watch Rapper Take Her Futuristic Throne
Nicki Minaj via YouTube
With visuals that fit perfectly with her majestic bars, Nick lays claim to her throne in a futuristic setting while dripping in the cocky confidence we've come to love from the Young Money rapper.
"Partying in Paris, these bitches is embarrassed/'Cause they know I'm the queen, I still didn't pick an heiress," Nicki spits on the Boi-1da and !llmind-produced track. "Mirror, mirror, who's the fairest?/You the muthafuckin' fairest, Nicki!"
Last month, Queen was certified platinum by the RIAA after less than six months since its release. Coincidentally, Nicki's Young Money boss Lil Wayne received a platinum certification for his latest feat, Tha Carter V, on the same day.
With her latest platinum certification, it set Nicki on the path to achieving another major milestone—the Queens-bred MC is one million units shy of becoming the first female rapper to have 100 million units sold across albums, singles and features certified by the Recording Industry Association of America. As it stands, she's already the first female artist with 100 entries in the Billboard Hot 100 Songs chart, thanks to her appearance on Tyga's single "Dip," which debuted at No. 83 on the chart and signified her 100th entry. A Queen indeed.
Watch Nicki Minaj's "Hard White" video below.
See Photos of Nicki Minaj's Different Looks Over the Years