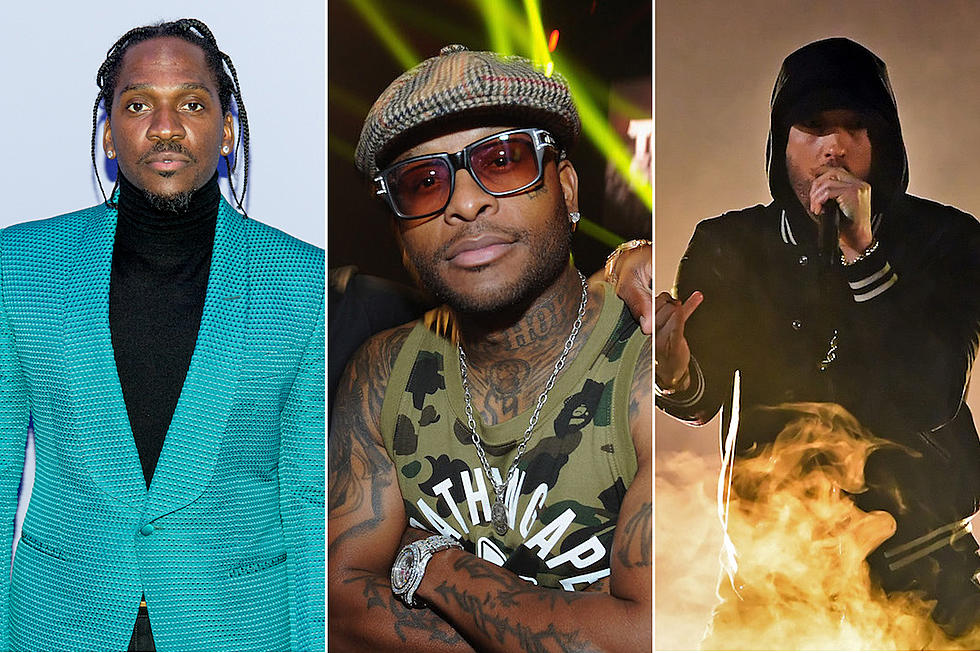 Royce 5'9"'s 'Book of Ryan' Album Tracklist Includes Pusha T, Eminem and More
Roy Rochlin/Craig Barritt/Kevin Winter, Getty Images (3)
We're just a few weeks away from Royce 5'9"'s forthcoming Book of Ryan album, and today (April 27) he's unveiling the finalized tracklist for the project, including all of the guest features. Major names are accompanying the Detroit rapper on his next studio LP, which drops on May 4, including Pusha T, Eminem and plenty more.
Previously, Royce teased an upcoming collaboration with Logic, and while he isn't listed on the Book of Ryan tracklist, he will be on the "Caterpillar" remix. Earlier today, the Maryland MC tweeted that his verse on the record is the "hardest hip-hop feature" he's ever done in his career.
"The hardest Hip Hop feature I've ever done in my entire life is on Royce da 59's new album dropping May 4th."
Earlier this month, Royce teased the project by dropping a new song called "Stay Woke," which will feature Ashley Sorrell on the album.
Check out the official finalized tracklist with all of the guest features for Royce's forthcoming Book of Ryan album below.
Royce 5'9"'s Book of Ryan Tracklist
1."Intro"
2. "Woke"
3. "Where's My Parallel (Skit)"
4. "Caterpillar" featuring King Green and Eminem
5. "God Speed" featuring Ashley Sorrell
6. "Dumb" featuring Boogie
7. "Who Are You (Skit)"
8. "Cocaine"
9. "Life Is Fair"
10. "Boblo Boat" featuring J. Cole
11. "Legendary"
12. "Summer On Lock" featuring Pusha T, Jadakiss, and Fabolous
13. "Amazing" featuring Melanie Rutherford
14. "Outside" featuring Marsha Ambrosius and Robert Glasper
15. "Power"
16. "Protecting Ryan (Skit)"
17. "Strong Friend"
18. "Anything-Everything"
19. "Stay Woke" featuring Ashley Sorrell
20. "First of the Month" featuring T. Pain and Chavis Chandler
See 20 of Your Favorite Rappers Naming Their Favorite Rappers