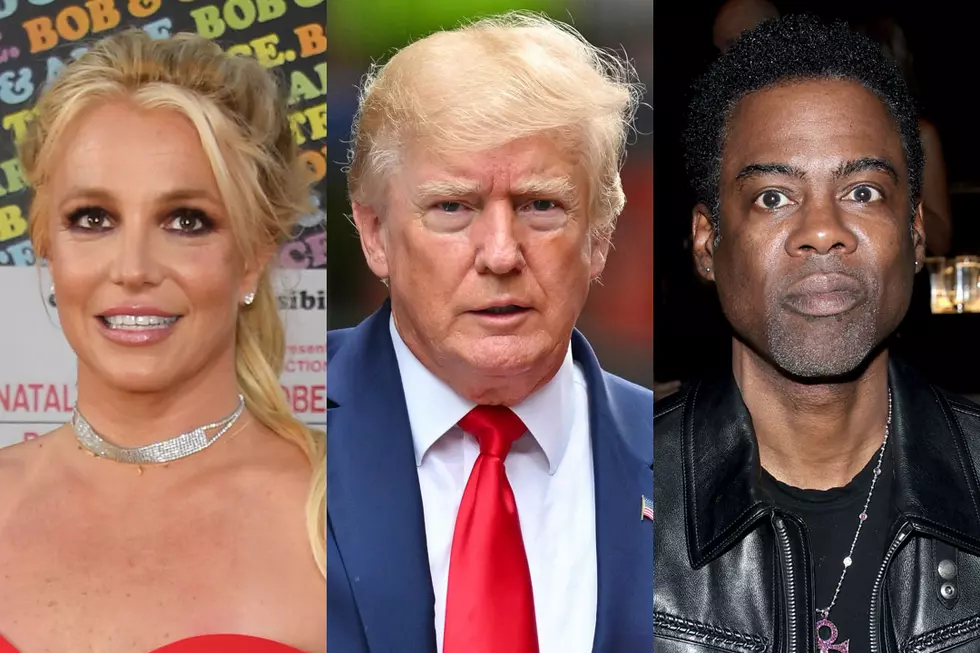 Here Are the Most Savage Diss Lines Aimed at People Outside Hip-Hop
Jon Kopaloff/FilmMagic/James Devaney/GC Images/Dimitrios Kambouris/Getty Images for NYFW: The Shows
Criticizing people who are famous (for good or bad reasons) is a relatively normal part of life, especially in the age of social media. A tweet is posted about a certain celebrity's actions, even if positive, and the comments turn into roasting sessions. However, the celeb is usually none the wiser. But when it comes to rappers name-dropping those same celebrities, the moment turns into a bigger ordeal. Rappers have been levying insults and taking stands (some of which are political) at key figures in their music for quite some time. Some artists have done it so often it became a calling card like Eminem, but it isn't solely just the Detroit MC who speaks his mind.
Some of the most-respected lyrical rappers of all time have shared their thoughts on previous American presidents. On his early career cut "Today," Kendrick Lamar criticizes George W. Bush, the controversial 43rd President of America. K-Dot cut to the chase with "Fuck George Bush, fuck rappers who love dissin'/Fuck you because you don't see my vision." For Nas, he took it a step further on his 2002 track "What Goes Around." "What is destined shall be/George Bush-killer 'til George Bush kills me," framing Bush's conservative policies as an attack on his personhood.
It's no secret that much of hip-hop isn't fond of Donald Trump. The Game made that known in the savage lyrics he delivered against Trump on "El Chapo," from The Documentary 2.5. "This is doomsday, I can have Guadalupe/Come through and knock Donald Trump out his toupee/Now look at his brains all on the sidewalk," The Game raps.
There have also been more contemporary disses levied as a result of recent pop-culture phenomena. In this case, 21 Savage's bars about Will Smith slapping Chris Rock at this year's Academy Awards was captured in lyrical history. 21 shared his thoughts on Drake's  "Jimmy Cooks," the most popular song off Drizzy's mostly dance album, Honestly, Nevermind. While Will used his hand to lay the smackdown, 21 imagines what he'd do in the situation. "If I was Will Smith, I would've slapped him with a stick," as in a gun. That's one way to handle it; predictably, the line blew up and is one of the most memorable parts of the track.
Britney Spears, George Zimmerman, Joe Biden and many more have been dissed throughout hip-hop history. Take a look below to see more rapper dissing people who don't rap, some of which deserved it. Check out the most savage diss lines aimed at people outside hip-hop.
The Game's "El Chapo"

Target: Donald Trump

"This is doomsday, I can have Guadalupe/Come through and knock Donald Trump out his toupee/Now look at his brains all on the sidewalk/And tuck the .38 and jump on my skywalker"

Drake's "Jimmy Cooks" featuring 21 Savage

Target: Chris Rock

"This Glock 45 came with a switch/If I was Will Smith, I would've slapped him with a stick"—21 Savage

Eminem's "The Real Slim Shady"

Target: Britney Spears

"So you can sit me here next to Britney Spears?/Shit, Christina Aguilera better switch me chairs/So I can sit next to Carson Daly and Fred Durst/And hear 'em argue over who she gave head to first/Little bitch put me on blast on MTV/'Yeah, he's cute, but I think he's married to Kim, hee-hee'/I should download her audio on MP3/And show the whole world how you gave Eminem VD"

BigWalkDog's "Trap God"

Target: Joe Biden's Son

"I feel like a president, dude suck dick like Joe Biden's son"

Noname's

Target: Hillary Clinton

"Just like a Hillary Clinton, who masqueraded the system/Who chicken-boned, watermelon-ed/Traded hoodie for hipster, infatuated the minstrel"

Kendrick Lamar's "Today"

Target: George Bush

"Fuck George Bush, fuck rappers who love dissin'/Fuck you because you don't see my vision"

Chief Keef and Mike WiLL Made-It's "Status"

Target: George Zimmerman

"Hang him off a tree if I catch Zimmerman/Let his ass die, bitch, fuck the ambulance"—Chief Keef

Eminem and Redman's "Off The Wall"

Target: Christina Aguilera

"Causin' terror to Christina Aguilera/When I grab her by the hair and drag her across the Sahara"

R.A. The Rugged Man's "Montero (Lil Nas X Remix)"

Target: Derek Chauvin

"I'll make a airplane with Derek Chauvin crash in the oceans/And I don't care if this man bangs Satan for the clicks"

Nas' "What Goes Around"

Target: George Bush

"What is destined shall be/George Bush-killer 'til George Bush kills me"

Lupe Fiasco's "Words I Never Said"

Target: Barack Obama

"Gaza Strip was getting bombed, Obama didn't say shit/That's why I ain't vote for him, next one either"

Kendrick Lamar's "The Heart Pt. 4"

Target: Donald Trump

"Donald Trump is a chump/Know how we feel, punk, tell him that God comin'"

Cam'ron's "Once Upon A Time"

Target: Harvey Weinstein

"No disrespectin' the ladies, word from my team/That's the reason Dame smacked Harvey Weinstein"

Denzel Curry's "Sirens"

Target: Donald Trump

"Donald Trump, Donald Duck, what the fuck is the difference?/Now we stuck in a rut, this ain't what I envisioned"

Danny Brown's "Aint It Funny"

Target: Chris Rock

"Locksmith of hip-hop, appraisal the wrist watch/The rocks 'bout the size as the teeth in Chris Rock's mouth"

Rick Ross and Scarface's "Blessing In Disguise"

Target: George Zimmerman

"Real recognize real, still .45 strapped/Underneath the white tee, Zimmerman get shot down"

Vinnie Paz's "Warhead"

Target: Candace Owens

"Use Candace Owens' head as a hood ornament/I probably shouldn't be performing the sword assorted war but/Scripted a strongman tournament event"

Chris Webby's "Raw Thoughts V"

Target: Joe Biden

"Where should I start, Joe Biden I guess Old Yeller/Shit, I'm honestly surprised he hasn't died on us yet/You ain't our president, dog/Shit, you don't have to pretend/Come on Joe, we all know that you ain't actually win"

Emimen's "We Made You"

Target: Kim Kardashian

"Damn, I think Kim Kardashian's a man/She stomped him, just 'cause he asked to put his hands/On her massive gluteus maximus again"

Timbaland, 50 Cent and Tony Yayo's "Come And Get Me"

Target: Britney Spears

"Costa Rica to Brazil, I got my hoes in the Lear/While your bitch bald-headed like Britney Spears"—Tony Yayo