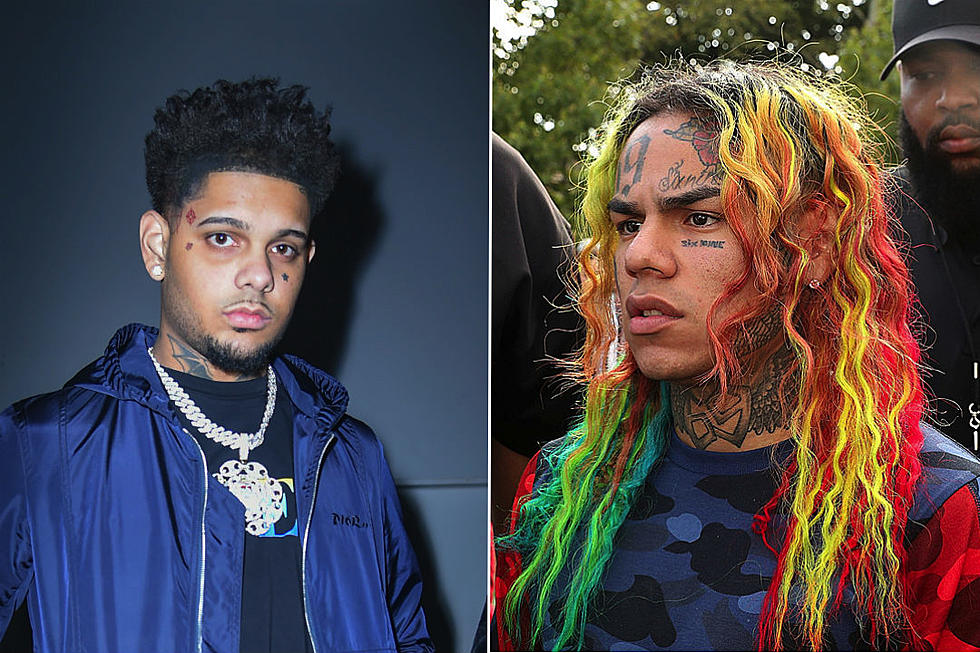 Smokepurpp Calls 6ix9ine a Rat, Invites Mother of Tekashi's Child Into Polyamorous Relationship
Yuchen Liao / Shareif Ziyadat, Getty Images (2)
Smokepurpp is not a fan of 6ix9ine...but he is a fan of the mother of the incarcerated rapper's daughter.
During an Instagram Live session on Tuesday (July 30), Purpp, who just dropped his Lost Planet 2.0 project in May, let it be known that he wants to have relations with Sara Molina.
"Where's 6ix9ine's baby moms at? We need a fourth one, don't we? We need a fourth one!" Purpp said while sitting with two women. "6ix9ine's baby mom, where you at? What's her name again? I don't know, but all four of us are trying to fuck—me and my two girlfriends."
When he saw a fan say "Free 6ix9ine!" in the comments, he proceeded to call him a rat.
"Keep 6ix9ine in jail, fuck that rat! His baby mom though, hey!" he said while licking his lips. "6ix9ine's baby mom, where you at?"
Later that day, fans began calling him out for talking down on 6ix9ine, saying that he's only freely talking like that because the embattled rapper can't respond from behind bars. He assured everyone that he plans to keep that same energy when he's out, however.
"I see y'all saying, 'You won't be calling 6ix9ine a rat when he gets out!' Yeah I will 'cause he's a fucking rat, stupid!" Purpp said on another IG Live. "Fuck 6ix9ine, he's a rat. And 6ix9ine's baby moms—I'm still looking for you, baby! Hit my line, baby!"
See 33 Hip-Hop Artists' Favorite Lil Wayne Projects