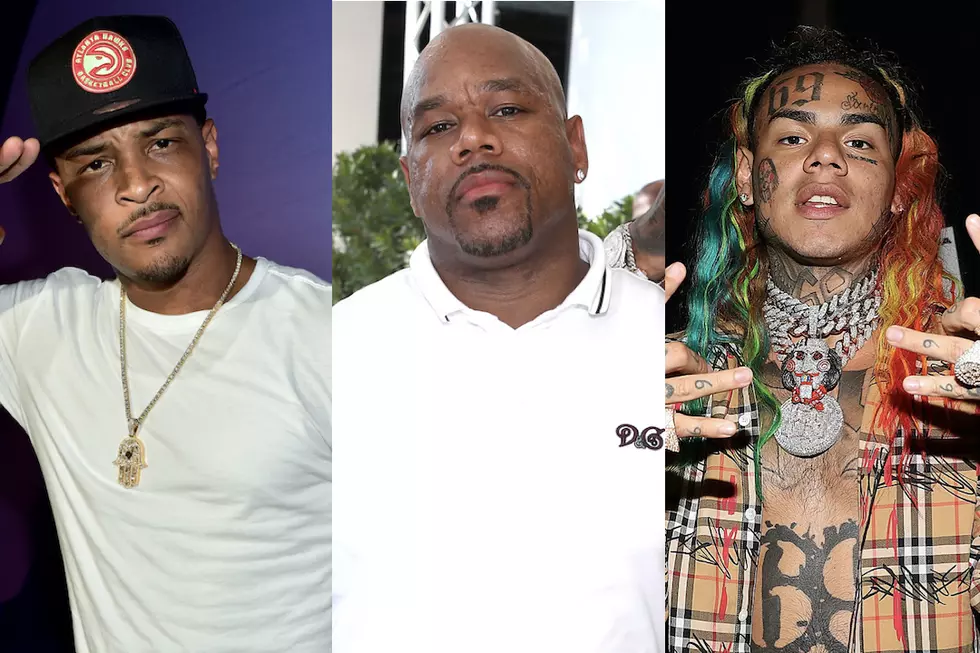 Wack 100 Compares T.I. to 6ix9ine for Tip's 2007 Gun Case
Moses Robinson / Randy Shropshire / Shareif Ziyadat, Getty Images (3)
Wack 100 doesn't like to get called out on social media.
On Tuesday (Dec. 3), Blueface's manager hopped on his Instagram page to address T.I., who seemingly used an Instagram post to address Wack's controversial assertion that Nipsey Hussle is not a "legend." In a retalliatory IG post, Wack shares a dated PSA commercial starring Tip, who provides information for a crime tip hotline.
In the caption, Wack compares T.I. to incarcerated rapper 6ix9ine, who famously testified against his former Nine Trey Gangsta Bloods associates. He writes, in all caps, "BEFORE THERE WAS A 69 there was a TI-#ALEGEND @troubleman31 YOU GOT MY LINE.... IM NOT TO BE PLAYED WITH MIND YA BIDNESS .... WACK GIVES NO FUCKS I AM NOT A RAPPER #YA65395 #J49170 #West👆🏾ONLY LEGENDS GET 12 MONTHS FOR 5000 pills and 25 CHOPPAS ——— NOW BLOG THAT."
Wack appears to be referring to T.I.'s October 2007 arrest on federal firearm charges. Federal agents arrested Tip in an Atlanta parking lot where he and his bodyguard were there to allegedly purchase multiple machine guns and two silencers. Agents also discovered three loaded firearms in the vehicle T.I. was driving, plus an additional six weapons stashed in the bedroom closet of the rapper's College Park, Ga. home. In March 2008, T.I. pleaded guilty in his gun case and he only ended up serving a year in prison. Wack and many others believe the sentence is so light that it probably means Tip cooperated with authorities.
As alluded to up top, Wack's response came in response to Tip's comments on whether or not Nipsey was a legend. For his original response to Wack, the Dime Trap rapper shared a screenshot of the definition of the word "legend." In the caption, the Atlanta rapper writes, "This shit say Nipsey all over it...Record sales and #1 hits ain't the only barometer for legendary status. IMPACT is what's important. Although his notoriety DID grow exponentially more after his demise... his impact is undeniable."
In subsequent IG posts, T.I. dismissed Wack 100's snitching claims. From there, Wack 100 uploaded a screenshot of a news story about T.I. testifying against the alleged killer of his friend Philant Johnson. Tip has yet to respond to that post.
See 60 of the Best Hip-Hop Mixtapes Since 2000