Big Sean Hints That Miley Cyrus + Liam Hemsworth Broke Up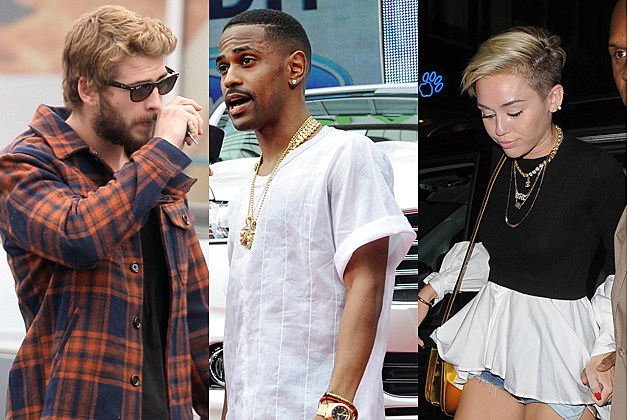 Miley Cyrus has denied splitting with Liam Hemsworth so much and so often that we're surprised she's not blue in the face. However, considering that she and her hunky Aussie fiancee are rarely seen together and that she's expressed crying herself to sleep recently, most Magic 8-Balls and common sense would say that the outlook isn't so good.
Adding fuel to the breakup rumor fire? None other than Cyrus' new "urban" pal, Big Sean.
Cyrus starred in the appropriately smokin' hot 'Fire' video for the rapper, who took to Twitter to show his appreciation of her participation, as well as to explain his casting choice, since he could have had any number of video girls (like, you know, his girlfriend, 'Glee' star Naya Rivera).
However, in voicing his thanks, Big Sean may have accidentally opened a can of worms that goes against Cyrus' constant denials, both to the press and possibly herself, about the state of her union with Hemsworth — or lack thereof.
A special video for a special song. I got Miley Cyrus for this video because she's somebody who's had a personal evolution as a lot of us

— Big Sean (@BigSean) August 2, 2013
have had. Besides all the personal stories I tell in the song, there are so many other ways people can make it through the fire.

— Big Sean (@BigSean) August 2, 2013
i think Miley did a great job as a metaphor for strong women, being strong person after heartbreak (hence the burning pic that could

— Big Sean (@BigSean) August 2, 2013
symbolize her old romance) , or maybe even deeper problems but in the end remaining as elegant as a rose.

— Big Sean (@BigSean) August 2, 2013
It's a cool visual that has a cool concept and meaning to it. Thanks to @MileyCyrus for being down everybody who helped make it happen!

— Big Sean (@BigSean) August 2, 2013
Sean isn't the only MC to spill Cyrus' split secret. In April, Snoop Lion revealed in an interview, "I can't speak for her, ya know what I'm saying, but I know that she has a relationship that no longer exists. I know she's probably in a transformation change with her life, her music [and] her career."
Yikes! Miley, you may want to put the kibosh on the talk for good and just confirm a split … or keep your mouth shut around rappers, because they keep blabbing your business!
Unless, of course, they were all talking about Nick Jonas.

Source:
Big Sean Hints That Miley Cyrus + Liam Hemsworth Broke Up