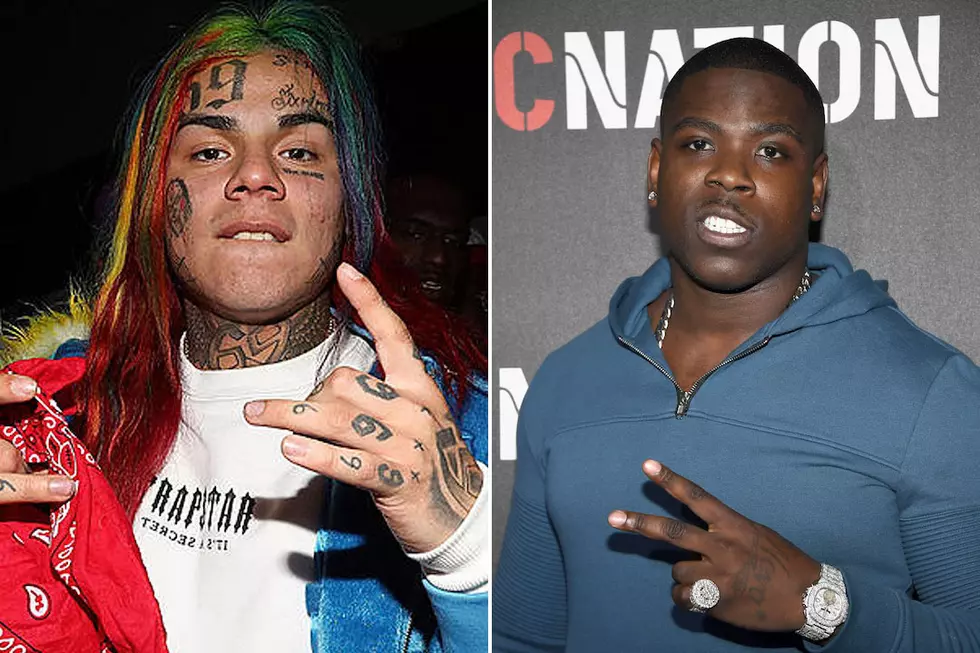 6ix9ine's Crew Under Investigation for Shooting at Casanova's Music Video Set
Shareif Ziyadat/Frazer Harrison, Getty Images (2)
It looks like the police are getting heavily involved in the feud between 6ix9ine and Casanova's crews following the alleged shooting that took place in Brooklyn on Thursday (April 19).
According to TMZ, one of the "Gummo" rapper's crew members is under investigation by authorities for his possible role in the alleged shooting, which resulted in two men being hit with bullets. So far, no arrests have been made.
Reports previously surfaced that a shooting took place on set of Casanova's music video in the Brooklyn neighborhood of Bedford-Stuyvesant, where at least ten shots were fired off at the "Don't Run" spitter's crew. The outlet reports that the two men who were hit are expected to make full recoveries. Following the news and footage of the shooting surfacing online, Casanova denied that anyone shot at him, and responded to 6ix9ine's now-deleted video where he taunted the Brooklyn native and the incident.
"Don't make me hot," Casanova responded on Instagram. "Why you doing that? You know damn well nobody ain't shot at me, man. Everybody at the motherfucking video shoot was my motherfucking sons, nigga."
Since their feud began brewing earlier this year, Casanova and 6ix9ine have been taking shots back-and-forth at each other on social media. Hopefully things can settle down before anyone else gets hurt.
We will keep you updated as details of the investigation become available.
See 20 of Your Favorite Rappers Naming Their Favorite Rappers