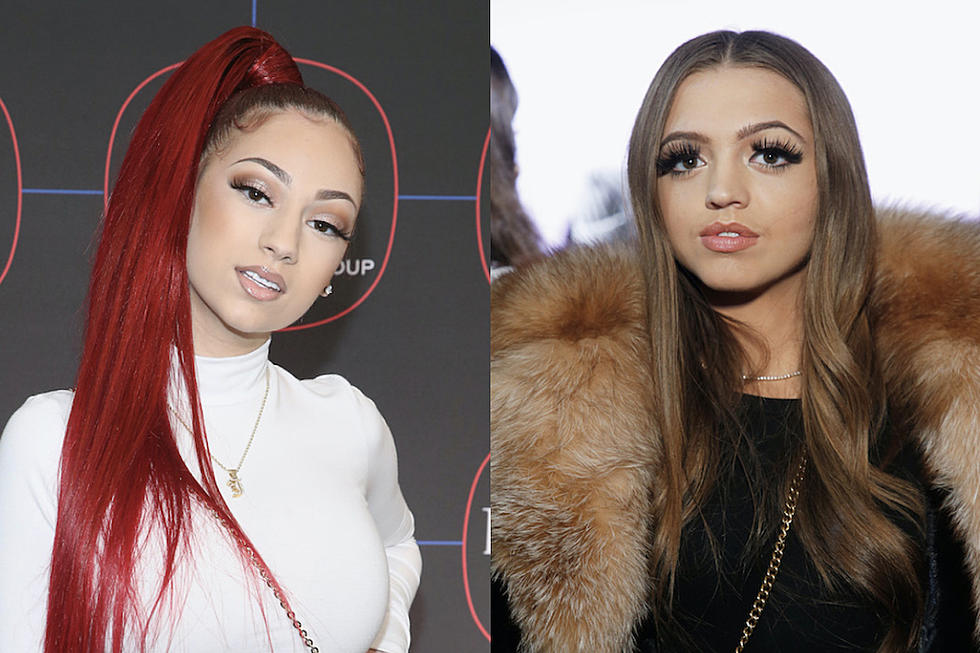 Bhad Bhabie Wants to Fight Woah Vicky for $1 Million Rematch
Randy Shropshire / John Lamparski, Getty Images (2)
Weeks after the pair threw fisticuffs in the studio, Bhabie says she wants to fight Vicky for $1 million. On Sunday (Nov. 10), when a fan on Twitter suggested in a tweet that the duo square up for real, Bhabiez replied, "1 million and I'll fight that horse toothed hoe in the ring. @LoganPaul @jakepaul cut the check."
On Monday morning (Nov. 11), Vicky responded to Bhabie's challenge. In a pinned tweet, she wrote, "Tag @AtlanticRecords, tell em to drop this ho @BhadBhabie, b4 I drop her again. She aint got [shit] goin." She also included her Bhad Bhabie diss song "Went Out Bad, Bhabie" for good measure.
As previously reported, Bhabie and Vicky brawled in an Atlanta studio, which was captured on video. Apparently, Vicky was in the studio with Lil Gotit when Bhabie pulled up on them. In one clip, you can see Vicky delivering blows to Bhabie while she was pinned on a couch.
In another video, you can hear Bhabie chasing after Vicky and screaming at her."Is this hoe crazy?" Bhad Bhabie shouts while being restrained by a man. "Now you won't even let me get to you? You crazy bitch!"
There's no official word on why Bhabie and Vicky are beefing with each other, but Vicky herself says they were both once romantically linked to Lil Gotit.
As for now, it looks like the "Bestie" rapper wants to handle things in a boxing ring.
You can read both Bhad Bhabie and Woah Vicky's tweets below.
See 21 of Hip-Hop's Most Unfortunate Rap Beefs
[gallery galleryid="812:526524" galleryindex="0" template="xxl" showthumbs="yes" enablefullscreen="no" ids="526734,526730,526731,526732,526733,526735,526736,526737,526738,526739,526741,526742,526743,526745,526746,526747,526748,526749,526750,526751,526740,619513"]