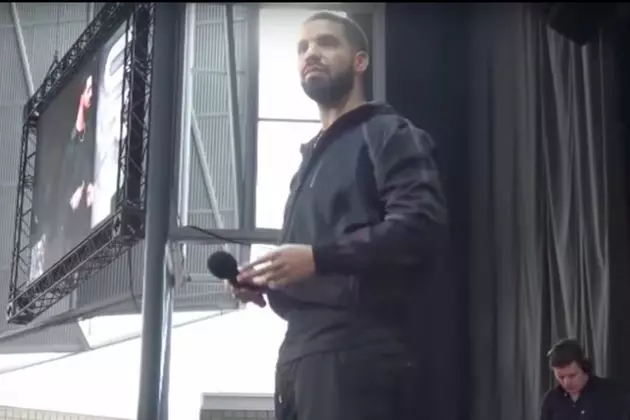 Drake Welcomes Floyd Mayweather and Conor McGregor to Toronto
ESNEWS via YouTube
Boxing fans are at the edges of their seats as they await the fight between Floyd Mayweather and Conor McGregor on Aug. 26 in Las Vegas, and they're building anticipation with their press run in Toronto this week. The two have been facing off in front of packed crowds of fans and the media, but Drake made sure he came out to welcome the two to his home city properly.
During the major conference, the More Life rapper was invited out on stage by promoters to represent for his Canadian city, where he amped up the crowd, giving out high fives to fans. He then spoke about his excitement to "witness history," calling the Mayweather and McGregor match the "biggest fight in the history of fighting."
"Listen, I'm gonna be honest. I came here today to witness history with each and every one of you. The biggest fight in the history of fighting," Drake announced. "And of course, they had to come to the greatest city in the world to do a press conference. So, whether it is Floyd Money Mayweather or whether it is the notorious Conor McGregor, I just want to welcome these two fighters to Toronto. A place that we will love until the day that we are all gone."
The fight between the two boxing champions is slated to take place on Aug. 26 in Las Vegas, with tickets costing as much as $10,000, with pay-per-view costing around $100.
See Drizzy appear at the Mayweather vs. McGregor press conference where he welcomes the fighters to the city.
See Photos of Drake's Different Looks Over the Years