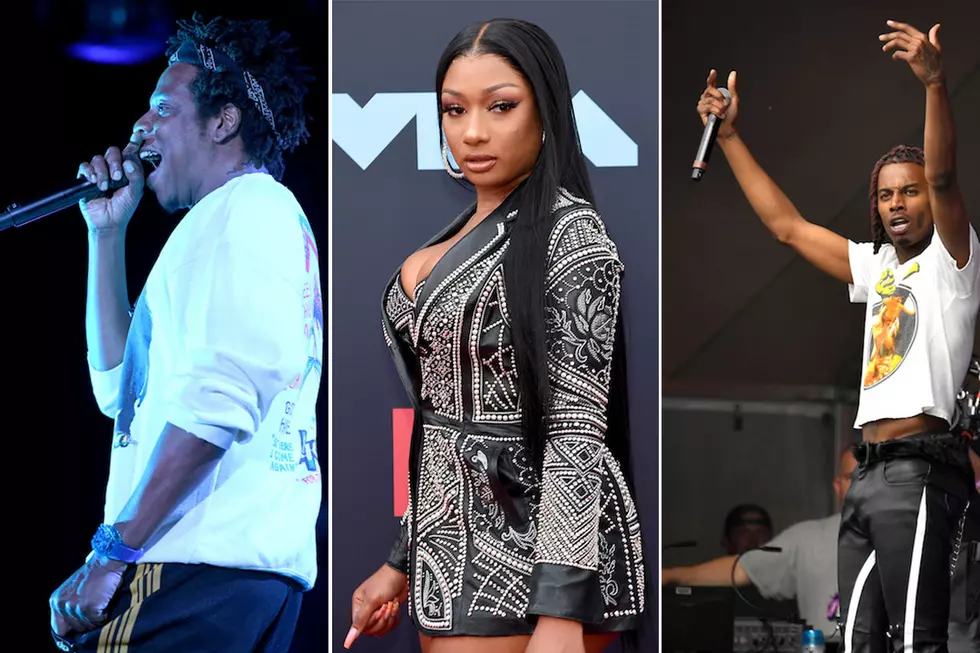 15 Dope Hip-Hop Songs Dedicated to Summer
Craig Barritt / Jamie McCarthy / Dia Dipasupil, Getty Images (3)
Imagine arguing that there's a greater season than summer. It's the time of the year when folks bake on the beach, cool off with ice cream or cold cocktails and bump the best music of the year in the process (everyone knows that rappers save their strongest material for the warm months).
From high-energy anthems to feel-good slappers, the best summer songs encapsulate all of the emotions that come with the season. But fans aren't the only ones who are hot for the summer. Rappers express their love of the season as well, as they often make odes to the warm months.
Given the indulgent subject matter, songs about the summer remain one of hip-hop's greatest pleasures. And it all may have begun with Will Smith. Decades after the 1991 release of "Summertime," there's still nothing like hearing The Fresh Prince's hypnotizing, Grammy-winning record blasting at a block party. Or letting the carefree summer manifesto contained within Jim Jones' "Summer With Miami" (2005) play as you cruise with the windows down. At their best, summer dedications bottle the feelings of the season so that they can last forever, transforming the passage of time into something that feels like a suggestion, not a law.
Labor Day weekend is upon us, which means that while there's just under a month of Summer 2019 left, it's approaching its conclusion. XXL thinks back warmly on the summer months by listing 15 unforgettable hip-hop songs dedicated to the summertime. —Claudia McNeilly
"Summertime" (1991)

The Fresh Prince and Jazzy Jeff

Sampling Kool & the Gang's "Summer Madness," The Fresh Prince and Jazzy Jeff summed up the excitement of the beginning of the summer with slick, easy rhymes about summer vacation and driving around with the windows down. The song went on to win a Grammy in 1992, providing a watershed moment for hip-hop in the early 1990s, as the genre began breaking through to the mainstream. Nearly 30 years after its release, it's still hard to beat this classic summer banger.

"Dear Summer" (2005)

Memphis Bleek Featuring Jay-Z

Treating summer like a girlfriend to break up with, "Dear Summer" is possibly one of rap's most bittersweet songs about the season. Throughout the track, Jay seems certain that there's an even-better life awaiting him if he puts in the work in to grasp it. Through it all, he never abandons his perseverance: "It's tugging, at my heart, but this time apart is needed/From the public, who should've gave me the Pulitz'/Instead gave me they ass to kiss/But you know me, thugging 'til the casket dips," he raps.

"Summer With Miami" (2005)

Jim Jones Featuring Trey Songz

Sampling the classic strings from The Isley Brother's hit "Between the Sheets" (also famously sampled by Biggie), Jim Jones' perfectly sums up carefree summer living on "Summer With Miami." Meanwhile, a satin-voiced Trey Songz blesses the hook with even more summer stunting: "Bottle in the air, livin' without a care/Shawty beside me, blowin' through her hair/Hold on, no/That's a summer with Miami."

"Middle of Da Summer" (2011)

Meek Mill

Rolling out the red carpet for Meek's career, "Middle of Da Summer" helped introduce the world to Meek's booming, emotionally raw street rap. The song paints a cinematic portrait of summer in the streets of Philly, as Mel Love delivers a particularly devastating final verse: "These Philly streets will make you lose hope/Her son was murdered now she use coke," he spits.

"Cole Summer" (2013)

J. Cole

Sampling Lauryn Hill's "Nothing Even Matters," J. Cole strings together a series of self-assured verses packed with refreshing honesty. "Cause I ain't one of these rappers out here frontin' like he got it, nigga/I ain't fuckin' got it, nigga/Throwing thousands in the strip club with Drizzy/Difference is I'm throwing four, he's throwing 50," he spits. Ultimately, he continues the narrative of Jay-Z's "Dear Summer," except instead of departing from the summer he's locking it down.

"Summertime in that Cutlass" (2013)

Nipsey Hussle

The pinnacle of summer cruising music, The Futuristiks-produced "Summertime in that Cutlass" pairs flashy flexes with a classic West Coast G-funk beat. Meanwhile, Nipsey exhibits a level of effortless cool that only comes with having been around the block a few times in a vintage Cutlass.

"Summertime" (2015)

Vince Staples

For the final track on the first disc of Summertime '06, Vince Staples abandons the album's blunt, matter-of-fact tone. Instead, he creates a love song that digs into your heart. Each verse hisses with hopeful optimism, as Staples sing-raps about wanting to see a summer fling turn into more. "Cause this could be forever, baby/This could be forever, baby," he raps on the hook, over a luxurious wave of synths courtesy of Clams Casino.

"Summer Friends" (2016)

Chance The Rapper

The nostalgic "Summer Friends" opens with a dreamy, hymn-like intro by Francis and the Lights. The sound recalls memories of early-2000s indie band Bon Iver. as an introspective Chance unpacks the transient nature of the season.

"Summer Sixteen" (2016)

Drake

Drake made headlines for referencing his beef with Meek Mill, comparing his pool to Kanye's and taking jabs at Tory Lanez and President Obama on this thunderous summer diss track. Released as a single to promote Views, the anthem has the effect of suspending time in the summer of 2016, when Drake and Meek had beef, Obama was president and Tory Lanez was still on the come up.

"Summer Seventeen" (2017)

Rick Ross Featuring Yo Gotti

Rick Ross and Yo Gotti offer up a succinct, undiluted ode to getting rich in the summer on "Summer Seventeen," flipping the idea of using summer vacationing. "It's 'bout to be a cold summer, hot winter/It's mid-March, I might make it rain 'til September," Yo Gotti spits over maximalist bass-driven production by Beat Billionaire.

"Feels Like Summer" (2018)

Childish Gambino

Ditching rap for a satisfying slow burn of steel drums and woozy, hummed melodies, "Feels Like Summer" is the sonic equivalent to a cool breeze running through your hair on a midsummer night. The lyrics aren't particularly memorable, but Gambino makes it all work in yet another testament to his wide-reaching talent and versatility.

"Middle of the Summer" (2018)

Playboi Carti

"Middle of the Summer" submerges you into the depths of Playboi Carti's giddy, surrealist fantasies over a slippery synth beat produced by mastermind Pi'erre Bourne. It's the song to put on when the heat and humidity make it hard to think straight, but you still have the energy to get lit.

"Summer" (2018)

Jay-Z and Beyoncé (The Carters)

Jazzy strings and buoyant horns set the stage for this summer slow jam, which finds Jay-Z repeating "let it breath" while Beyoncé croons about sex on the beach. When Damien Marley declares "Love is going to express itself as a form of forgiveness and compassion for each other" on the song's outro, he brings the track full circle: Bey and Jay at the peak of their love and success. Summer is just another reason to celebrate.

"Summer Games" (2018)

Drake

Featuring relatable opening bars about dating in the age of social media: "Yeah, you say I led you on, but you followed me/I follow one of your friends, you unfollow me/Then you block them so they can't see you likin' someone just like me," Drake offers a panoramic view of a failed summer fling on this down-tempo summer track. Produced by OVO mainstays Noah 40 Shebib and No I.D., the song doubles down on its moody, introspective effect with a nocturnal, R&B-driven melody.

"Hot Girl Summer" (2019)

Megan Thee Stallion Featuring Nicki Minaj and Ty Dolla $ign

Megan Thee Stallion took her perfectly branded Hot Girl Summer from a meme and mentality to her highest-charting song to date, thanks to contributions from Nicki Minaj and Ty Dolla $ign. The song interpolates City Girls' "Act Up," a 2019 summer anthem, while Meg and Minaj add some sassy talk of their own.