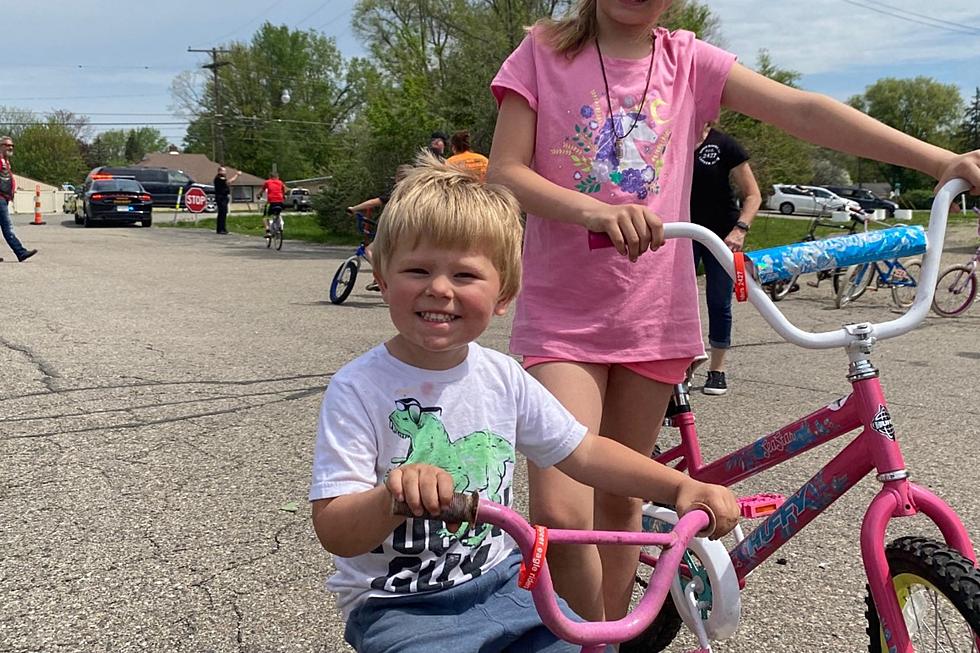 Sold Out – A Successful Lapeer Free Kids' Bike Giveaway
Credit: Duffy Connolly
Since last year's Free Kids' Bike Giveaway at the Lapeer Eagles on M-21, there has been a buzz throughout Lapeer County. Every kid deserves a bike to ride, and they're expensive these days. And kids grow so quickly, outgrowing their bikes in a year or two, so why not give them to a younger kid in need rather than throwing them out?
Eager to help out with this, the Eagle Riders of Lapeer decided to step up three years ago and do something about it. They simply asked for bike donations of any kind. If the bikes needed some help to make them safe, or in some cases even roll properly, they would find it. And this, accompanied by helmet and accessory donations, kicked off what is now becoming a day that families, near and far, get excited about in the spring.
How Did The 3rd Annual Free Kids' Bike Giveaway Go?
There are actually 2 answers to this question.
#1: It went absolutely fantastic for many local families. (Which is the goal every year).
#2: It went absolutely fantastic for many local families, however, the demand was so high this year that, unfortunately, some folks who got there closer to the end of the event were not able to walk (or ride) away with a bike this year.
What Was Given Away in 2023?
EVERYTHING they had.
The event started off with 177 bikes and 88 helmets/accessories. The event was scheduled from 11am-4pm. And, by noon, there were no helmets and less than 25 bikes left.
How To Donate for Future Events 
If you, or someone you know, has a gently used bicycle you would like to donate, please call Jim Gerwolds at 810-625-6726 or Mike Young at 248-867-3093. You can also drop bikes, or bike accessories, off anytime at the Lapeer Eagles located at 3565 Davison Rd, Lapeer MI 48446 (just west of the Lake Nepessing Rd. roundabout).
And no bike will be turned away. If the bike itself is unsalvageable, it will be parted out accordingly if/when needed.
Thanks again to everyone who put this fabulous event together, as well as everyone who has donated. The community is clearly thankful.
Please continue to scroll forward and see all the smiles, family fun, and dedicated people that made this event such a huge success.
And here's to 2024 being even bigger and better than 2023! (with your help/donations of course).
Sold Out - A Successful Lapeer Free Kids' Bike Giveaway
Check out the smiles created by this amazing, family friendly, annual Lapeer event.
25 Great Places to Take the Kids Before Summer Ends
The school year will be here before you know it. Before it is, take the kids someplace fun. No matter the age of your kids, how much time you have, what your budget is, or where you want to go, there are plenty of places to go to take the kids and enjoy activities. Here are 25 places you can take the kids before the summer is up.