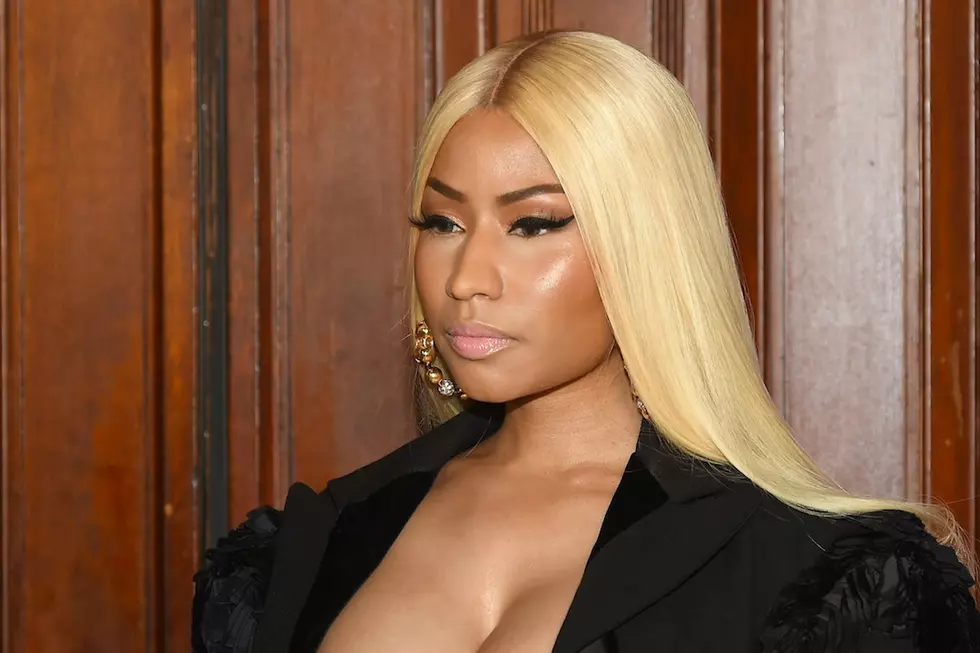 Nicki Minaj Fires Back at "D*!k Riders" Who Criticize Her for Highlighting White Rappers on the iTunes Chart
Ben Gabbe, Getty Images
Fans weren't too pleased when Nicki Minaj uploaded an Instagram post highlighting the White rapper dominance on the iTunes charts and, unsurprisingly, Nicki herself wasn't having their backlash. She clapped back at critics who took issue with her post on Sunday (Dec. 17).
In her initial Instagram post, Nicki screenshotted an image of the iTunes chart, which showed that Eminem, Post Malone and G-Eazy were the most dominant rappers by a sizable margin. Macklemore and Machine Gun Kelly also rounded out the chart.
For her caption, Nicki made several edits to the post. "It's a great time to be a white rapper in America huh?" Nicki wrote in the caption for the Instagram post that has since been deleted. "These are the top 10 rap songs on US iTunes. S/O to Em & Post. Two of my faves. Congrats to Em on his new album. #Motorsport put dat thing in sport."
In an updated caption for the now-deleted post, Nicki makes it clear she cares not for how people feel about her initial comments. "Update blocking all u sensitive dick riders," she wrote. "It IS a great time to be a white rapper in America. I wanna sign one for my new label. U know anyone? I spk my mthafkn mind n if u don't like it gtfo my page dick rida! Y'all can never wait to ride the Queen dick! Sensitive ass ig thugs. Gtfoh."
Things didn't stop there. The Queens rapper then shared a lengthier post that included a video of J. Cole speaking on the way race influences the perception of music, limiting Black artists in the process. "Whenever a black woman speaks on ANYTHING she's labeled as 'mad' 'angry' 'bitter,'" Nicki said in another caption. "I'm on 4 songs on the Billboard Hot 100. I'm blessed & highly favored thx to my amazing fans."
See Nicki address people commenting on her Instagram account in the posts below. Nicki deleted both posts after receiving continued backlash. Check out her verse on A$AP Ferg's "Plain Jane" when you're done with that.
See New Music Releases for December 2017