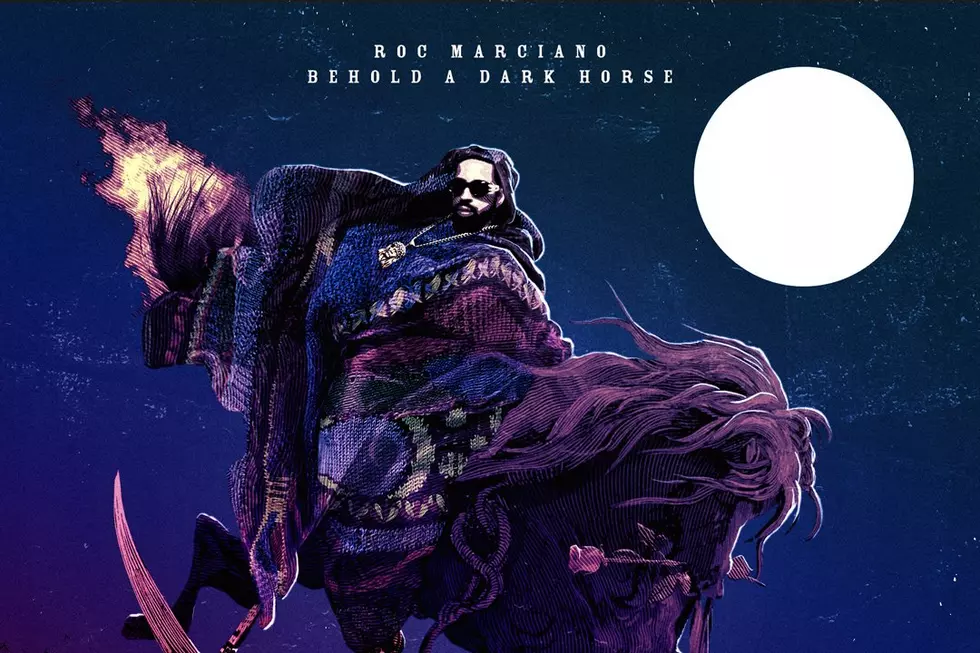 Roc Marciano 'Behold a Dark Horse' Album: Listen to New Songs Featuring Busta Rhymes, Black Thought and More
Marci Enterprises
Roc Marciano returned today (Sept. 18) with a new album titled Behold a Dark Horse that reunites the New York classicist with several local legends.
The 12-track project features guest verses from Black Thought, Knowledge The Pirate and Busta Rhymes, whose Conglomerate label, then known as Flipmode, signed Marciano to his first record deal. The Alchemist and Q-Tip, among others, contribute production, while six of the beats come from Roc himself.
Marciano also dropped a self-directed video for the album's opening track, "The Horse's Mouth." The clip finds the Long Island native rapping outside at night while sipping Hennessy, doing pull-ups and loading two duffel bags into his coupe, spliced with archival footage of guns and coffins.
The song, produced by Preservation, features a typically slick barrage of threats and lavish boasts layered in endless internal rhymes over a spare drum loop and ominous violins.
"Niggas bitin', this is invitin' to the tongue/Albino tiger rug, I pipe sluts, the vinyl run/The nine come with the motorcycle gloves/Put you to sleep and you'll be nice and snug, the night was young," he raps.
The album, Marci's first since February's RR2: The Bitter Dose, is currently available for purchase and download through his website, which lists the release as a website-exclusive "until (and if) Roc makes it available in other formats." Fat Beats, the album's distributor, tweeted today that a vinyl release is "coming soon."
Watch "The Horse's Mouth" video and view Behold a Dark Horse's tracklist and production credits below.
Roc Marciano's Behold a Dark Horse Tracklist and Production Credits
1. "The Horse's Mouth" (Produced by Preservation)
2. "Congo" (Produced by Roc Marciano)
3. "1000 Deaths" (Produced by Roc Marciano)
4. "Diamond Cutters" featuring Black Thought (Produced by Roc Marciano)
5. "Amethyst" (Produced by Animoss)
6. "Sampson & Delilah" (Produced by Doncee)
7. "No Love" featuring Knowledge The Pirate (Produced by Roc Marciano)
8. "Trojan Horse" featuring Busta Rhymes (Produced by Roc Marciano)
9. "Fabio" (Produced by The Alchemist)
10. "Secrets" (Produced by Roc Marciano)
11. "Whoolers" (Produced by Animoss)
12. "Consigliere" (Produced by Q-Tip)
See 20 of Your Favorite Rappers Naming Their Favorite Rappers