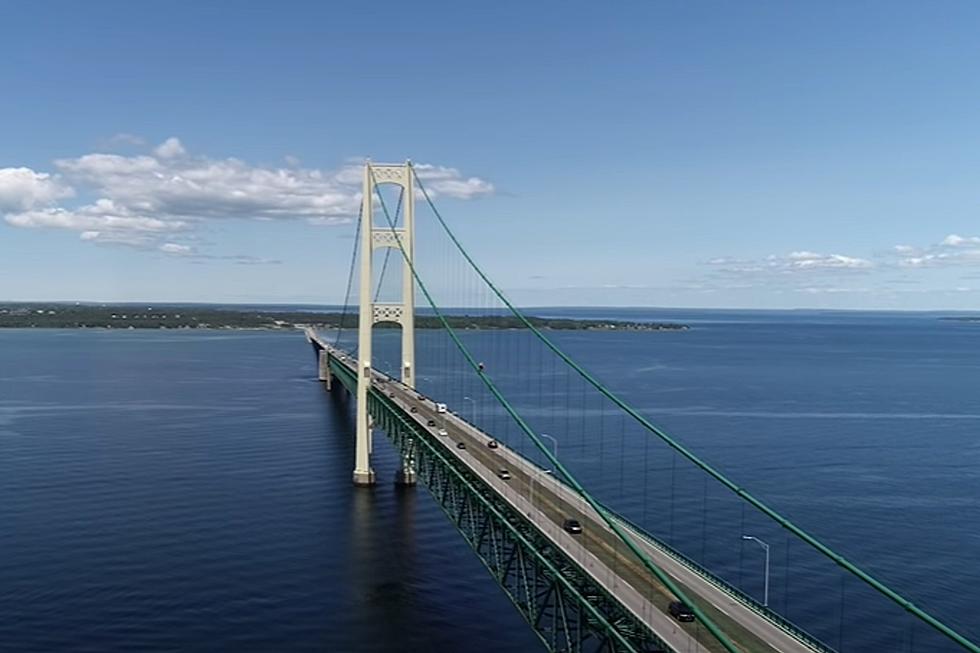 Happy Birthday – The Mackinac Bridge Opened 64 Years Ago Today
MichiganDOT via YouTube
The Mighty Mac is turning 64 years old today.
It was November 1, 1957, when the Mackinac Bridge first opened to the public, connecting the Upper and Lower peninsulas of Michigan. This was a huge game-changer for the state because prior to the bridge being built, the only way to travel between peninsulas was by ferry. At one point they had nine ferry boats that would carry as many as 9,000 vehicles per day. The backup to get across the water could stretch as far as 16 miles.
It's nicknamed the Mighty Mac for a reason, it's truly mighty in size. The bridge is nearly five miles long and is the world's 24th-longest main span and the longest suspension bridge between anchorages in the Western Hemisphere. It's also one of the worlds longest bridges overall.
Construction began on May 7, 1954. It took three and a half years to build and ended up costing $100 million. It opened to traffic on November 1, 1957, and the ferry service came to an end that very same day.
The construction of the bridge wasn't a flawless one as five workers were killed.
Diver Frank Pepper ascended too quickly from a depth of 140 feet on September 16, 1954. The 46-year-old died from the bends.
26-year-old James LeSarge lost his balance on October 10, 1954, and fell into a caisson (a boxlike structure used in construction work underwater or as a foundation). He fell 40 feet and likely died of head injuries caused by impact with the criss-crossing steel beams inside the caisson. No doubt a brutal way to lose your life.
Albert Abbott died on October 25, 1954. The 40-year-old fell four feet into the water while working on an 18-inch wide beam. It's believed that he suffered a heart attack.
Twenty-eight-year-old Jack Baker and Robert Koppen died in a catwalk collapse near the north tower on June 6, 1956; it was their first day on the job. Koppen's body was never recovered.
Since the bridge first opened there have been two vehicles that have fallen off. In 1989 a woman died when her 1987 Yugo plunged over the railing. Most people believe it was caused by high winds but she in fact lost control of the vehicle due to excessive speed.
A man went over the edge back in 1997, it was determined to be a suicide.
It's really something to not only see but to also drive across. It can be a bit stressful if you have a fear of heights like I do.
Again, happy birthday to the Might Mac.
The video below is truly some of the most amazing footage of the Mackinac Bridge.
UP NEXT: Seven Interesting Facts About The Mackinac Bridge
LOOK: Here are the 25 best places to live in Michigan
Stacker
compiled a list of the best places to live in Michigan using data from
Niche
. Niche ranks places to live based on a variety of factors including cost of living, schools, health care, recreation, and weather. Cities, suburbs, and towns were included. Listings and images are from
realtor.com
.
On the list, there's a robust mix of offerings from great schools and nightlife to high walkability and public parks. Some areas have enjoyed rapid growth thanks to new businesses moving to the area, while others offer glimpses into area history with well-preserved architecture and museums. Keep reading to see if your hometown made the list.