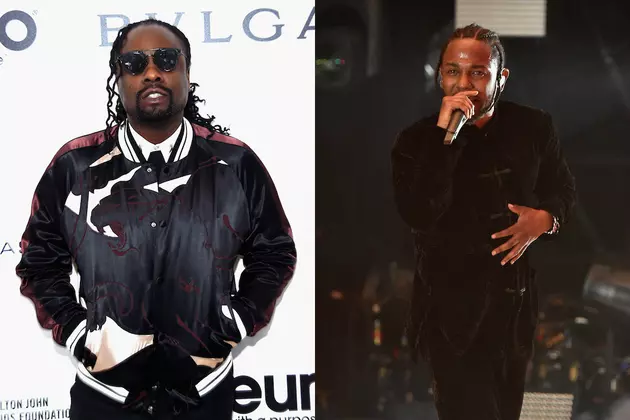 Wale Calls Kendrick Lamar One of the Top Five Rappers of All Time
Kevin Mazur/Jamie McCarthy, Getty Images (2)
Kendrick Lamar is receiving a lot of critical acclaim following the release of his DAMN. album, and now the Compton rapper is being put into the same conversations as legends, thanks to Wale. The D.C. native recently did an interview this past weekend at Coachella where he spoke on K. Dot's influence and impact on hip hop culture.
While discussing the recent Eminem vs. Kendrick debate that was sparked on social media, Wale shared his candid thoughts, stating, "As far as executing, writing rhymes, and telling a story, [Kendrick is] one of the top five rappers of all-time." Wale does show praise for Marshall Mathers, but he makes sure to show his undying love for K. Dot and the potential that he has to be one of the greatest of all time.
Not only does Wale talk about K. Dot's lyrical ability, but he also says Kendrick has a lot of power and holds a lot of weight, being that he gets love from both the mainstream and the streets.
The top five, dead or alive debate has been around for ages, and is only becoming more powerful each year as rappers show and prove whether they are fit to be part of the conversation. Jadakiss even paid homage to the debate with his last solo album release in 2015.
Watch Wale talk about Kenny below.
Here Are 19 Rappers Going Platinum in 2017