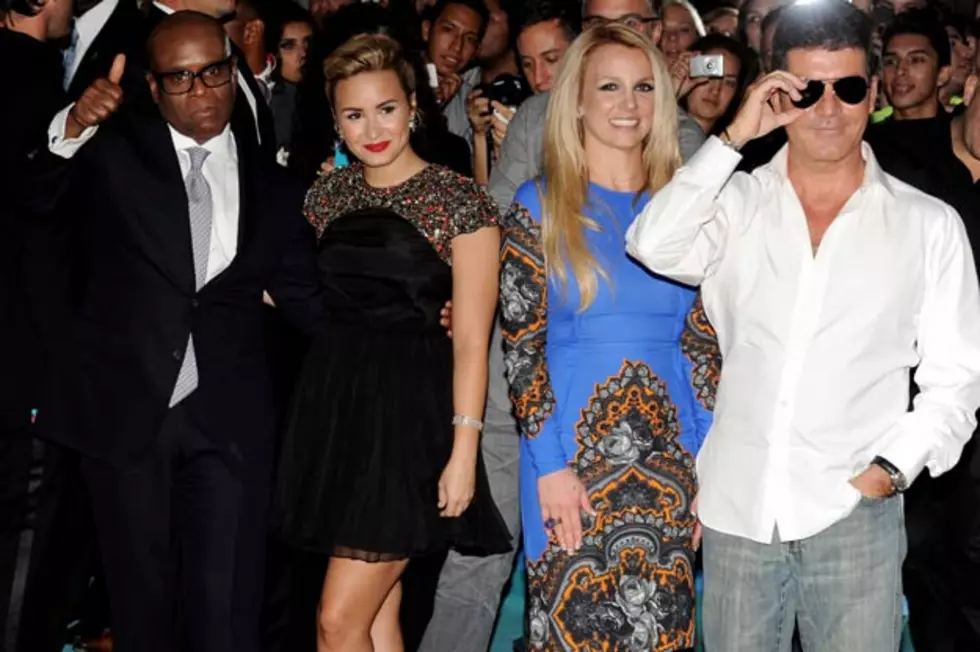 'X Factor' Recap: Final 13 Perform Movie Songs for Audience Votes
Kevin Winter, Getty Images
On tonight's (Nov. 7) episode of 'X Factor,' the final 13 were asked to perform for audience votes by singing songs from the movies. Wait, what? The final 13? There were only 12 after last week's ep. Is that a typo? Nope, it's not.
At the top of the show, Simon Cowell announced that the judges realized that they had made a mistake and decided to bring one eliminated act back to the show, upping the total to 13. The returning act was Diamond White, who was sent home by Britney Spears last week. So while it's not a nice round number, we're all for second chances via reality shows. It's built into the premise.
We also have to point out that mentor Demi Lovato looked like a dead ringer for actress Jennifer Connelly with her extra dark hair, brows and lips. It was a bit of a severe look, Demz! Sorry, girl.
So who sang what and how'd they do? Here's the PopCrush recap.
Arin Ray: The former member of last season's Intensity, who was in the bottom two last week, shared that he is from an area where people get shot often. So winning the show is a way out for him. He sang 'American Boy' with teen pop panache, and delivered a smooth rendition. His mentor called him a "true star."
Beatrice Miller: The adorbs singer had a scratchy throat the day of her perf, but she offered up a smoky version of 'Iris,' one that didn't indicate how young she really is. (She's just 13!) She did have some issues with a dry-sounding voice throughout, but it wasn't enough to make us say "Send 'er home." Not even. Her voice sounds like that which we often hear on a hit record.
Diamond White: The emotional roller coaster this poor girl was on -- being voted off and then brought back -- didn't affect her ambitious performance of 'I Have Nothing.' She hit the high notes, but we didn't love her white pantsuit. It was too "matronly" for someone so young and vibrant. Remember, last year's "invited back" contestant Melanie Amaro went on to win the show, so things could bode well for this sparkling Diamond.
Carly Rose Sonenclar: The talented teen sang a beautiful and nuanced version of Bruno Mars' 'It Will Rain,' showing off her intense and incredible range. For such a youngster, she really manifested the ability to stir souls. She is likely the most viable contestant on Brit Brit's team of teens. Mark our words: CRS is one to watch as the competition plays out over the course of the next few weeks.
Emblem3: The California boy band turned in a modernized, One Direction-ish version of 'My Girl' mashed up with Katy Perry's 'California Gurls.' If Si Co is looking for a Two Direction -- or, in this case, a Three Direction -- he may have found it. The boys rapped believably and delivered the crazy catchy pop melodies in such a sun-smooched way. L.A. was annoyed that their perf was so "perfect." He's all green with envy.
Lyric145: The rap trio completely and brilliant reinvented 'Supercalifragilisticexpialidocious' from 'Mary Poppins,' in an Outkast-kinda way, with theatrical, Alice in Wonderland-type styling. It was so outrageous that it was absolutely awesome. It had tons of street energy and flow. The group even incorporated the judges into their rapid-fire raps. Um-diddle-diddle-um-diddleye, indeed. It was super(califragilisticexpialidocious) entertaining and PopCrush's fave perf of the night.
Fifth Harmony: The all-girl band formerly known as Lylas are now called Fifth Harmony, a name they were christened with courtesy of America, as the show asked fans to come up with a new moniker. Now that the have a nom de plume, they can focus on their performances. They offered up a winning and deftly harmonized rendition of Christina Perri's lovelorn 'A Thousand Years.' They are an angelic choir and were like a mini (but expanded since they have five members) Destiny's Child. They all showed off powerhouse voices and it was arranged beautifully, in terms of who started and ended the song.
Paige Thomas: The single mother with a penchant for biting RiRi's style descended to the stage from a rig in the sky, like an angel. Her voice matched that imagery as she performed a dramatic and theatrical rendition of 'Take My Breath Away' from 'Top Gun.' The full production made it feel like Paige was already Miss Thang. Cowell and L.A. Reid were not feeling it, with Si Co wanting it to turn into a dance track at the end. Um, okay.
Jennel Garcia: The singer tore up 'I Love Rock 'n' Roll,' looking every inch Joan Jett in her black leather ensemble and black coif with bangs. If she doesn't win 'X,' her option is bartending school. She is a soulful little rock star, with a set of pipes you could hear on the radio. She doesn't need to be serving up bevvies. The judges were split; Reid felt it was a parody, while Brit felt it was "hot, hot, hot." Si Co said it did nothing to diverge from the original so it was just a retread.
CeCe Frey: CeCe has serious likability issues. She is talented; that's not disputed. But she isn't easy to root for. She performed 'Eye of the Tiger,' which is a fierce song for her. She struggled to keep her breath while dancing and moving on the stage as she sang. Si Co blamed her mentor for leading her down the wrong path and turning in an awful perf for the second week in a row. Ouchies.
Vino Alan: The tattooed soul star sang 'When a Man Loves a Woman' and he pulled emotion from his core, going so deep he reached marrow. He showed how special and unique his voice is. Even though it was one of the best perfs of the night, Lovato felt that she can't see him as a pop star. It's probably the tattoos. We say go get 'em, Vino. Your name means wine. How cool is that?
Tate Stevens: The country singer showed off his rock 'n' roll side by performing Bon Jovi's power ballad 'Wanted Dead or Alive.' Several million faces saw Stevens and he rocked 'em all. He has true country charm. He also revealed that is wife was like a single parent while he pursued his dream. Now, it's the family's dream, and why he needs to win. Brit called him a true cowboy and a slice of America. He's 37, and he may not look the part of pop star, but he has true country grit. He might not win the show but he may kickstart a real country career regardless, since the rules in that genre are different..
Jason Brock: "Mr. Entertainment" popped in a red blazer fit for a restaurant employee while performing 'Fly,' one of the most moving ballads out there this side of Xtina's 'Beautiful.' He has a bit of a loungey quality, but it wasn't that detrimental during this performance. He has a different kind of spunk that we sort of love. While Brit Brit said it was an improvement from last week, but still felt like it came from Las Vegas, suggesting her try an Usher track instead. Demi deemed it too "cabaret."
Find out who is going home tomorrow (Nov. 8.)