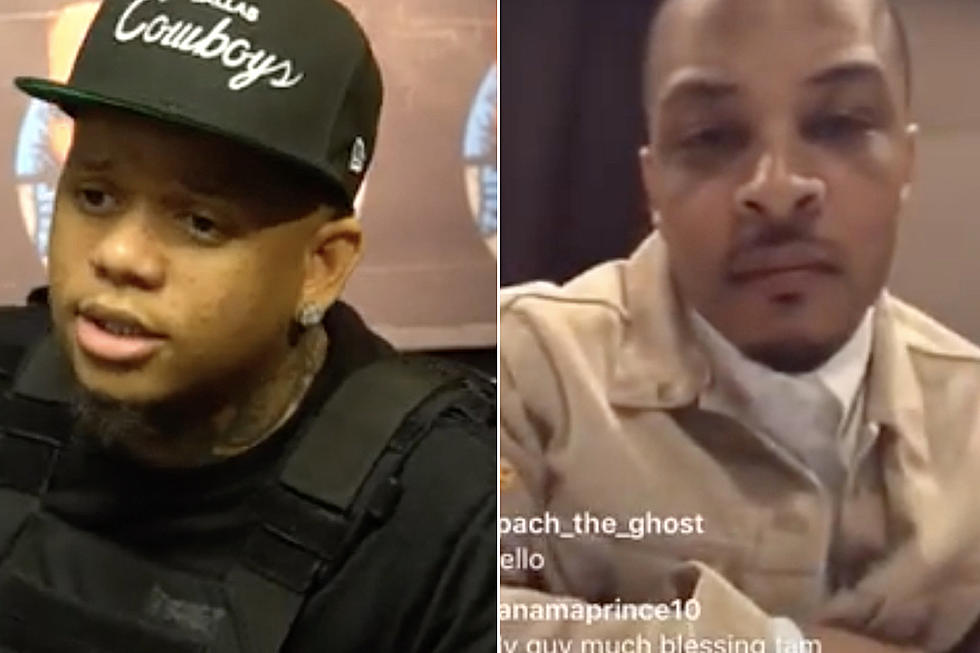 Yella Beezy Tells T.I. He Wasn't in America at Time of Bartender Assault
ashleeonair via YouTube / Must Watch TV via YouTube (2)
During a March 24 appearance on Houston 93.7 The Beat's  Ashlee On Air with co-host DJ Hella Yella, Beezy actually said that he wasn't even in the country when the bartender's attack on the woman happened. "I wasn't even in America," Beezy says in a video of the interview. "I was in Cabo, so I'm not even knowing what's going on."
In the viral clip in question, Tip called out Dallas rappers like Yella Beezy on his Instagram Live and wonders why rappers in the area hadn't spoken out against the vicious attack.
"How you can sit around talk about how certified you [are], how thorough you are especially if you are in Dallas?" Tip asked. "This shit is on your watch."
Elsewhere in his response to T.I.'s IG Live callout, Beezy, who survived a drive-by shooting back in October, makes it clear that he's not really looking for a confrontation, but he does feel that Tip could've handled matters differently.
"I don't want to say the wrong thing....he could have called me," Beezy says. "I get where he was coming from, it's just his delivery was wrong. But I'm gonna call him."
Shuffield was arrested on misdemeanor charges related to the assault and is currently out on bond. Meanwhile, the victim, L'Daijohnique Lee, plans to file a lawsuit against him. However, she is fearful that Shuffield may come after her.
"I'm scared. I don't know who's following me, who's behind me, who's watching. He has pictures of my car, maybe my license plate," she told CBS 11 News in Dallas.
Watch Yella Beezy respond to T.I. below. You can also see the video of T.I. calling out Dallas rappers below.
See 12 Rappers Who Have Deleted Their Social Media Accounts