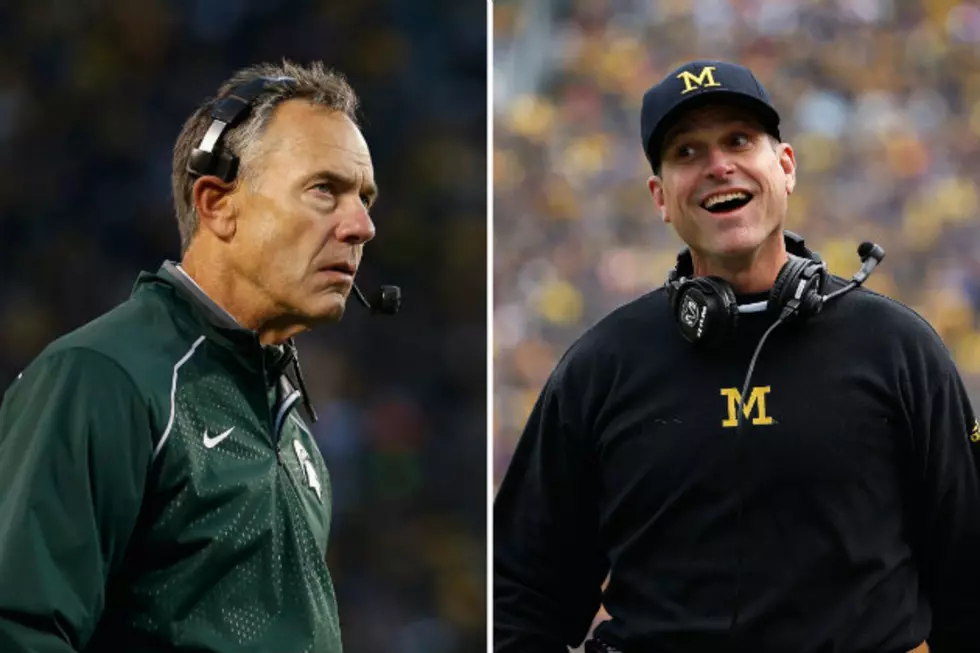 Jim Harbaugh Gives Mark Dantonio Major Compliments Leading Into Rivalry Week
GettyImages
Michigan and Michigan State are preparing for the backyard brawl on Saturday, but Jim Harbaugh didn't let that stop him from throwing some big compliments toward Mark Dantonio.
Everyone in Michigan knows that there's no bigger game than the Michigan/Michigan State game.  The rivalry runs deep, and after last years shocking ending, Michigan fans are hungry for some revenge.
That's why it came as such a surprise to hear Michigan head coach, Jim Harbaugh tell the Free Press how much he admires Sparty coach, Mark Dantonio.
He's done a great job, He's one of the best.  One of the best college football coaching jobs in the history of the game, at the highest level.
While everything that Harbaugh is saying is absolutely true, it just feels weird to hear him say it.
Most people are predicting Michigan to win big over Michigan State on Saturday, but in this kind of game, you can never be too sure.  Kickoff is at Noon on Saturday.