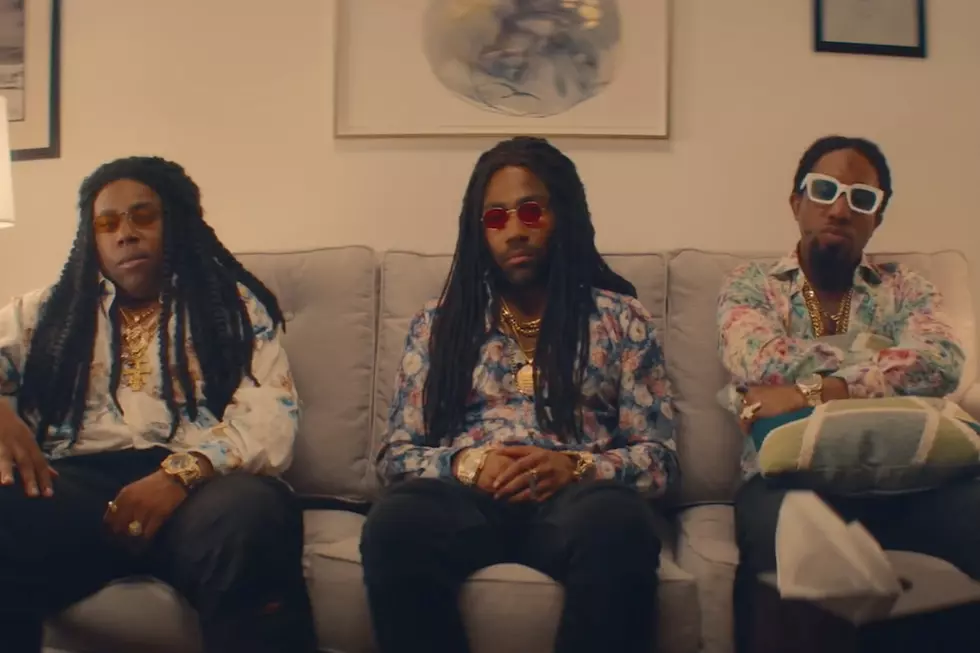 Migos Didn't Like 'SNL' Parody Skit With Childish Gambino
Saturday Night Live via YouTube
Last May, Saturday Night Live debuted a skit with Childish Gambino (aka Donald Glover), Chris Redd and Kenan Thompson parodying the Migos going through therapy to help work on their friendship. Well, real-life Migos member Offset didn't find the skit so funny, and he says Quavo and Takeoff didn't either.
On the latest episode of GQ's Undercover series, which premiered today (Feb. 22), Offset goes undercover and answers fans' questions on different social media platforms. Over the course of the nine-minute episode, he revealed that the Georgia trio didn't enjoy the SNL skit. "I have to be honest, we didn't like that skit, it was like the totally opposite of the Migos," he explained.
"We rock with each other. We ain't arguing," he continued. "And then I felt like it was interpreted like we was some dodo birds, like, let's go against each other. We weren't feeling that."
While Offset made it clear he didn't rock with the SNL skit, he didn't seem to dwell on it too much. That makes sense because things are going pretty great for the rapper. Earlier today, 'Set dropped off his debut solo album Father of 4. After the release of the album, Offset instructed fans to carefully listen to the project.
"This album means the world to me took my time with the project. Take your time listening very special stories within the songs," he tweeted.
The collection is produced in its entirety by hitmakers Southside and Metro Boomin, and it features appearances from Offset's wife Cardi B, 21 Savage, Travis Scott, Gucci Mane and J. Cole. Cole appears on the song "How Did I Get Here." On the track, Offet and Cole recall their journey to be at the top of the rap game.
Check out Offset's appearance on GQ's Undercover and watch the SNL skit below.
Read About 10 Rapper Purchases That Broke The Bank