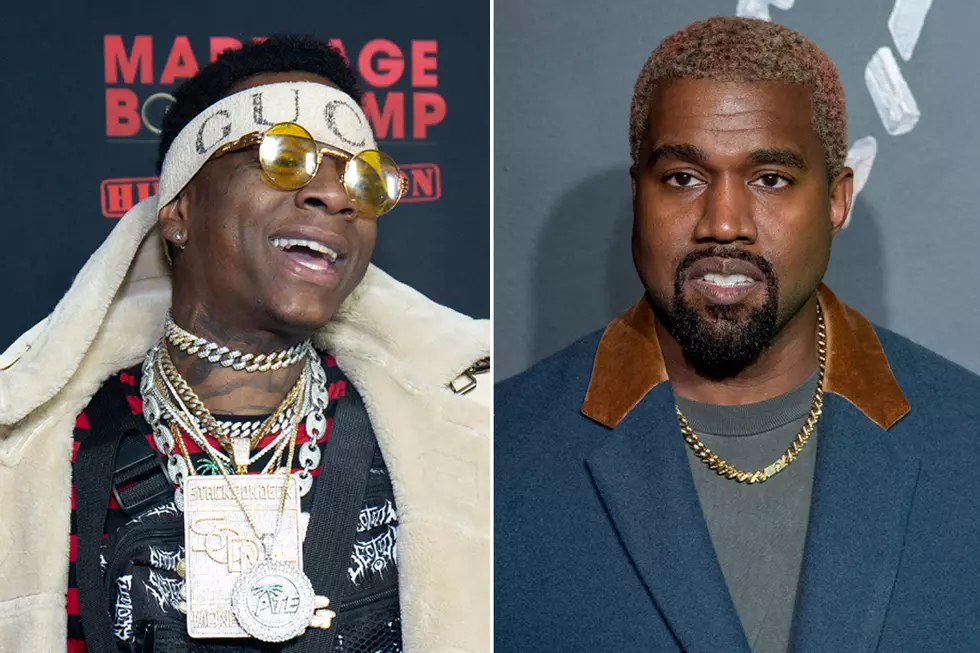 Soulja Boy Claims He's the Reason Kanye West Acts So Cocky
Santiago Felipe / Roy Rochlin, Getty Images (2)
Soulja Boy has some words for Kanye West. On Monday (Jan. 14), the 28-year-old rapper-tech entrepreneur jumped onto Instagram live and gave himself some props while saying that Yeezy is someone who he's inspired in his career—specifically as it relates to attitude.
"I'm the reason Kanye act cocky, cause you know why? When I first got on with 'Crank That Soulja Boy,' and I was 16-years-old, and I had the No. 1 song in the country, and I went x10 platinum ... Kanye West was standing outside my muthafuckin' van looking like he wanted to meet me, and I didn't know who the fuck he was."
The Kanye bit seemed to come out of nowhere, as the Fuego artist started out by saying that he's going to do an interview with The Breakfast Club and that he's ready for any jokes Charlamagne Tha God throws at him. That's when he started going in on Yeezy.
"Niggas talk about Kanye West... Kanye West?!" he yelled at an earlier part of his livestream. "Yo, the nigga that's crying about Drake on Twitter every week? The nigga that came out with Yeezys? Nigga I came out with a video game console! Kanye West ain't never came out with no fucking video game console."
Soulja went on to explain that his manager tried to introduce Kanye by telling him he was "Jay-Z's artist" and that he just released his debut album College Dropout.
"I said, 'I don't give a fuck get out my face,'" he recalls. "And then my manager said, 'You can't do that bro, he's an artist this is MTV awards, say hi to Kanye.' I said, 'Yo man I don't give a fuck about no damn Kanye, I got the No. 1 song in the world, nigga.'"
You can see what Soulja's got to say about Yeezy
See Rappers With Acronyms in Their Name