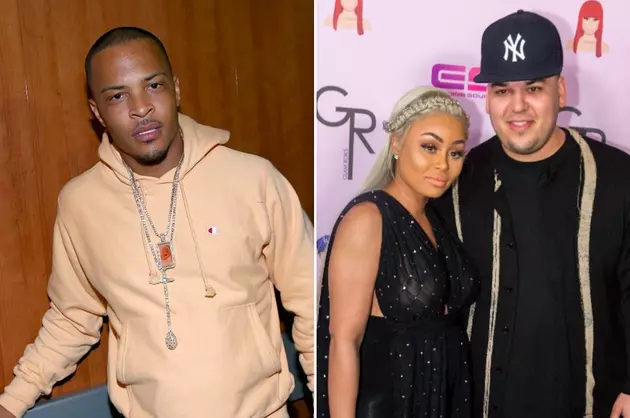 T.I. Weighs In on Rob Kardashian and Blac Chyna Feud
Bennett Raglin/Greg Doherty, Getty Images (2)
Social media went into a frenzy earlier today, as Rob Kardashian posted scathing screenshots and nude photos of his on-again-off-again girlfriend Blac Chyna to Instagram with claims of her alleged infidelities. While tons of fans and followers are chiming in on the drama, some of our favorite hip-hop stars, including T.I., are sharing opinions of their own on the matter.
T.I. not only weighed in on the drama, but he even commented on Rob's post directly and called him out for putting their business on social media. He goes on to call him a "duck," and advises him to face his loss after allegedly being played out by Chyna.
"Why bring ya business to IG tho? Look, you got worked bro....but at least keep it to yourself, you letting the world know you a duck," T.I. comments. "I mean a BIG DUCK, a might duck, Ronald McDonald the Duck, Scrooge McDuck, Howard the Duck, Huey Dewy & Lewie....save the #DuckTales just hold this L, kiss ya kid & cut ya losses & move on...u got no moves bro."
Since then, Rob has dragged Tip into the drama by posting the rapper's comments, and writing a caption claiming that Chyna used to be involved in threesomes with T.I. and his now-estranged wife Tiny.
"Since TI wanna chime in on business that don't concern him let's talk about the threesome you had with Chyna and your baby mama Tiny," Rob write in the caption. Don't speak on my daughter when u having threesomes with young Chy and Tiny ::: and I put that on my daughters life since u wanna speak on my daughter,,, damn shame. Chyna told me everything about your threesomes with you and her and Tiny. U got no moves bro ;;; Correction ::: TI paid Chyna to have sex with Tiny and him."
Fans are flooding Rob's comments with warnings about sparking a feud with T.I., as the Atlanta veteran is known to withhold biting his tongue on social media towards other celebrities. So far, the Southern MC responded by posting the iconic photo of Muhammad Ali dodging a punch from Joe Frazier, that has a quote with "Dodge the bullshit like" written over it.
"And duckin these ducks," Tip writes in the continued caption.
See all of the drama between Rob and T.I. below.
See 20 of Your Favorite Rappers Naming Their Favorite Rappers