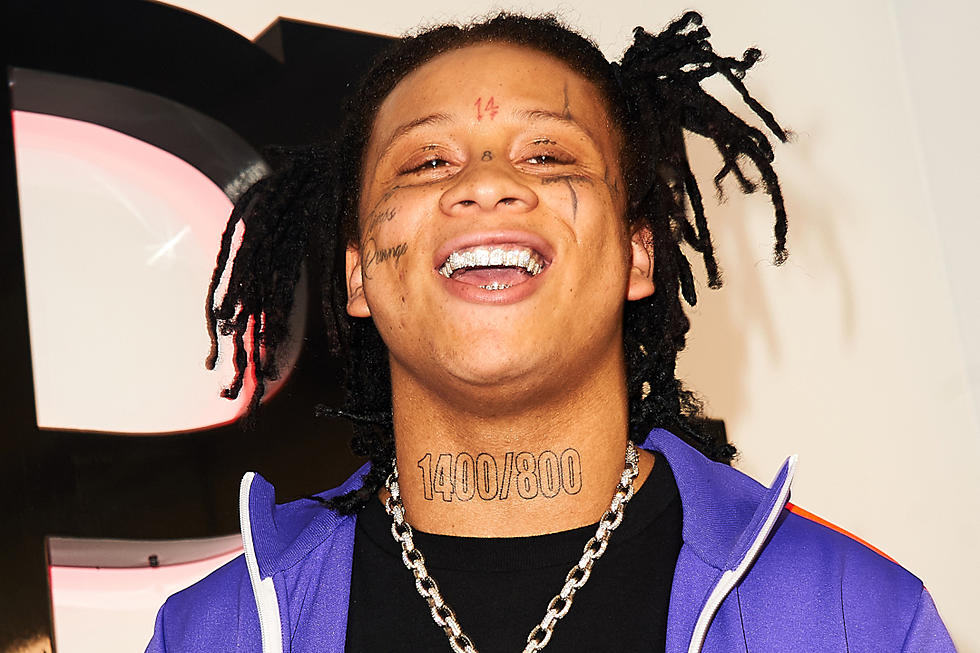 Trippie Redd Announces New Album, Releases New Song
Unique Nicole , Getty Images
Titled "Mac 10," the new song premiered on Beats 1 Radio with Zane Lowe on Wednesday (July 24). The Wheezy-produced track is set to live on Trippie's forthcoming album, !, which he revealed he is tentatively dropping on Aug. 9. On the hook, Trippie reminds his detractors who they're playing with.
"I'ma hop out with that Mac-10/Pussy get shot for that cappin'/Pussy get popped by that action/Please say hello to my gat bitch!" he raps.
Elsewhere on the song, Lil Duke flexes his bravado.
"We stick together like Cuban links/Trippin' with Trippie I came in a mink," he raps. "We gotta duck when they flashin' the cameras/Speaking of my diamonds they wet like a sink."
Lil Baby closes with the third verse, repping where he's from.
"I'm from 400 block and we still trappin/Niggas know that we gang, man we still active/Walk down with new steel like we drill masters/Got gats in the Range—we gon' kill cats!"
Talking to Zane, Trippie explained how the collab with Duke and Lil Baby came about.
"I was in New York, on tour with Travis Scott, and they just so happened to be in the studio when I was there. Lil Baby was sleeping on the couch, and Duke was up with me," Trippie explained. "We was just smoking and vibing. And Wheezy came in the studio, and I asked him for a beat, he gave me the beat. And then, I did the chorus. Duke got on it. And then I woke Baby ass up. It took damn near like 30 minutes, but he woke up out his sleep, and got this shit out the way."
Listen to Trippie's "Mac 10" and check out the ! cover art and tracklist below.
1. "!"
2. "Snake Skin"
3. "Be Yourself"
4. "I Try"
5. "They Afraid of You" featuring Playboi Carti
6. "Immortal" featuring The Game
7. "Throw It Away"
8. "Keep Your Head Up"
9. "Riot"
10. "Mac 10" featuring Lil Baby and Lil Duke
11. "Everything BoZ" featuring Coi Leray
12. "Under Enemy Arms"
13. "Lil Wayne"
14. "Signing Off"
See 33 Hip-Hop Artists' Favorite Lil Wayne Projects