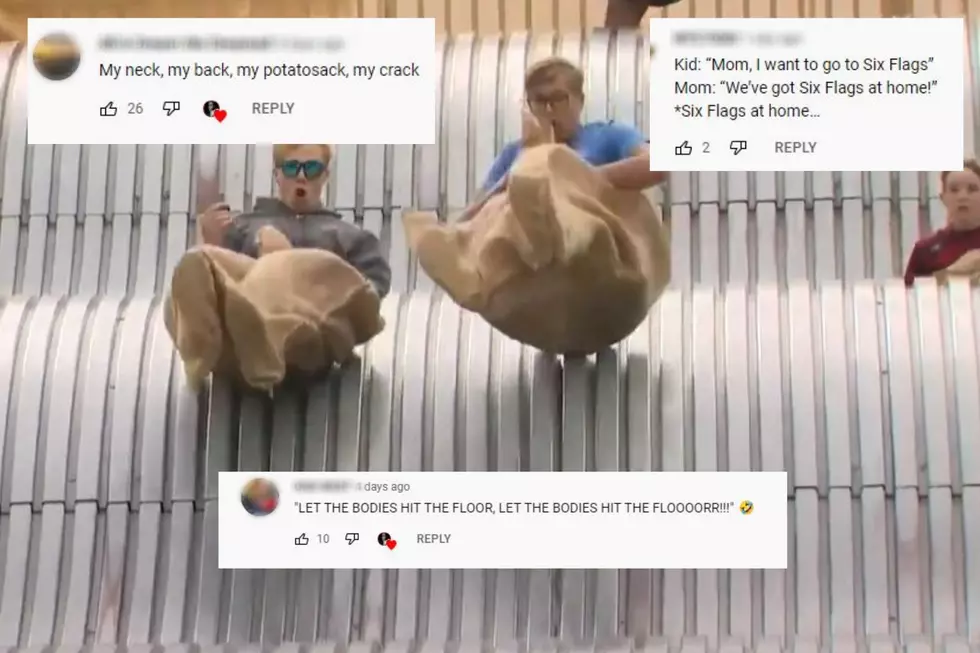 23 Funny YouTube Comments About the Belle Isle Slide in Detroit
WDIV via YouTube
The Belle Isle Slide in Detroit has been entertaining us all for over a week now.
The Giant Slide on Belle Isle in Detroit was first opened back in 1967. Many people from the Detroit area and Michigan, in general, have fond memories of this slide from their childhood. However, lately, the slide has provided some different memories for riders.
SEE ALSO: JIMMY KIMMEL REACTS TO BELLE ISLE SLIDE CLIP OF THE YEAR 2022
Last weekend, videos of the giant Belle Isle slide began to surface everywhere on social media. The videos showed riders taking a beating while ripping down the slide. Many of those riders caught airtime off the hills and then were repeatedly slammed back down to the slide. Many have stated that the reason for this is that the slide was freshly waxed.
Despite seeing people painfully tumble down the slide, riders continued to wait their turn to give it a shot. Meanwhile, onlookers and viewers just couldn't turn away and were given a lot of laughs while watching the footage.
The slide videos have taken off on the internet and have made national news clips around the country. Songs have also been created about the slide and there are memes everywhere right now. Even the comment sections are a great place to find entertainment around the slide.
Despite all of the speed and bouncing concerns, the Giant Slide at Belle Isle Park reopened this morning at 11 am and new videos are already beginning to surface.
Check out some of the funniest YouTube comments out there below.
23 Funny YouTube Comments About the Belle Isle Slide in Detroit
The Giant Slide at Belle Isle Park has now become internet famous after videos of high-speed and bump rides surfaced last week. Check out the comments here.
13 Notable People That You Did Not Know Were From Detroit, MI
Detroit, Michigan is the birthplace of thousands of notable people and many people know. Check out this list of 13 people that you may not know were born in The D.
Nine Detroit-Area Jail Reviews That Will Give You A Chuckle
Sometimes scrolling through the reviews section is so worth it. These nine reviews of Detroit-area jails did not disappoint.
Eight Dangerous and Deadly Creatures That Can Hurt You in Michigan
Michigan has more than a handful of creatures that can kill or hurt you. Be careful out there.