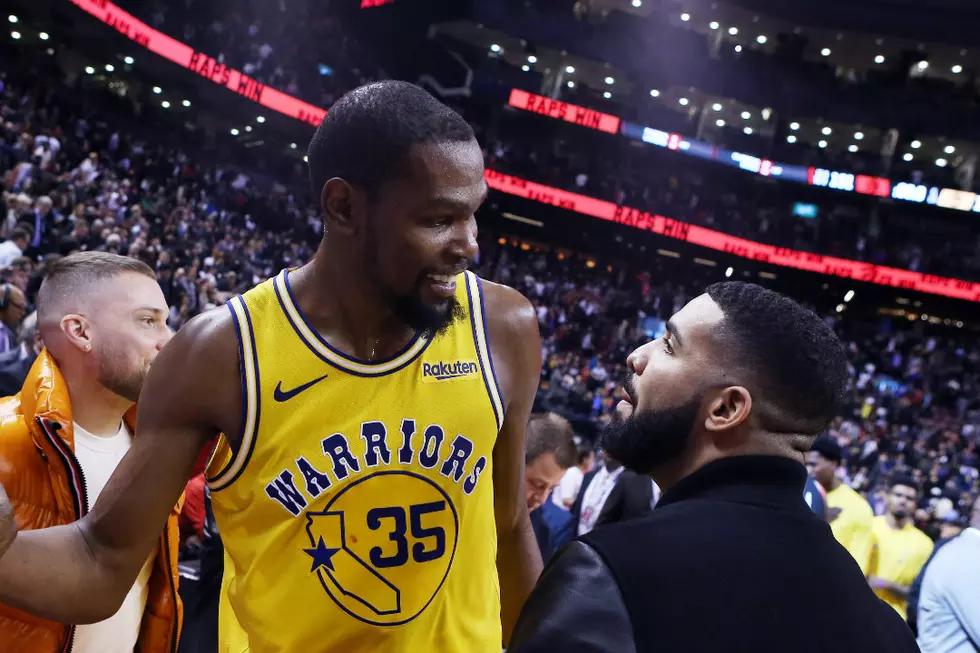 10 Times Drake Has Name-Dropped Golden State Warriors Players on Songs
Vaughn Ridley, Getty Images
When it comes to the Toronto Raptors, Drake is clearly all in. Especially this season, as he's seen his hometown team make it all the way to the 2019 NBA Finals for the first time in franchise history. Aubrey has been along for entire playoff run: on the sideline, all in the replay videos, dancing. He's made himself the center of attention via eye-catching outfits and eye-roll inducing troll moments. But now his team is up against the best of the best in the defending NBA champion Golden State Warriors.
Drizzy knows the dynasty out in Oakland all too well. The Canadian rap star's history shows that he is clearly a fan of winners. He even has tattoos of Kevin Durant and Steph Curry's jersey numbers on his bicep, which he covered up for the first game in the series. If you let his rhymes tell it, the rapper has a cool relationship with players on the team. Over the years, the 6 God has plugged the GSW and members of its team on multiple memorable tracks.
As the series rages on with Drake front and center, XXL compiles a list of all the times the OVO rapper has shouted out players on the team he is currently vehemently rooting against.
"0 – 100 / The Catch Up"

Shout-out: Stephen Curry

"I been Steph Curry with the shot/Been cookin' with the sauce, Chef Curry with the pot, boy"

"6 Man"

Shout-out: DeMarcus Cousins

"Not your guy, I'm not your buddy, show no lovin'/I might go DeMarcus Cousins out in public"

"Free Smoke"

Shout-out: Kevin Durant

"I took the team plane from Oracle/Mama never used to cook much/Used to chef KD/Now me and Chef, KD/Bet on shots for twenty G's"

"Pop That"

Shout-out: Kevin Durant

"Gettin cheddar packs like KD, OKC that's player shit"

"Still Here"

Shout-out: Steph Curry

"Hittin' like that 30 on my jersey, man, I'm gifted/Whole lot of sixes but I'm still like/Hallelujah, Hallelujah, Hallelujah"

"Summer Sixteen"

Shout-out: Draymond Green

"And I blame all my day ones/You know Chubbs like Draymond/You better off not saying nothing"

"Summer Sixteen"

Shout-out: Golden State Warriors

"Fuck with all the word of mouth/Golden State running practice at my house"

"Weston Road Flows"

Shout-out: Kevin Durant

"A lot of people just hit me up when my name is mentioned/Shout out to KD, we relate, we get the same attention"

"Yes Indeed"

Shout-out: Kevin Durant

"They ran me ten thousand, I threw it like Brady/The foreign is yellow like Tracee and KD"

"Yes Indeed"

Shout-out: DeMarcus Cousins

"My head in a hoodie, my shorty a goodie/My cousins are crazy, my cousins like Boogie"