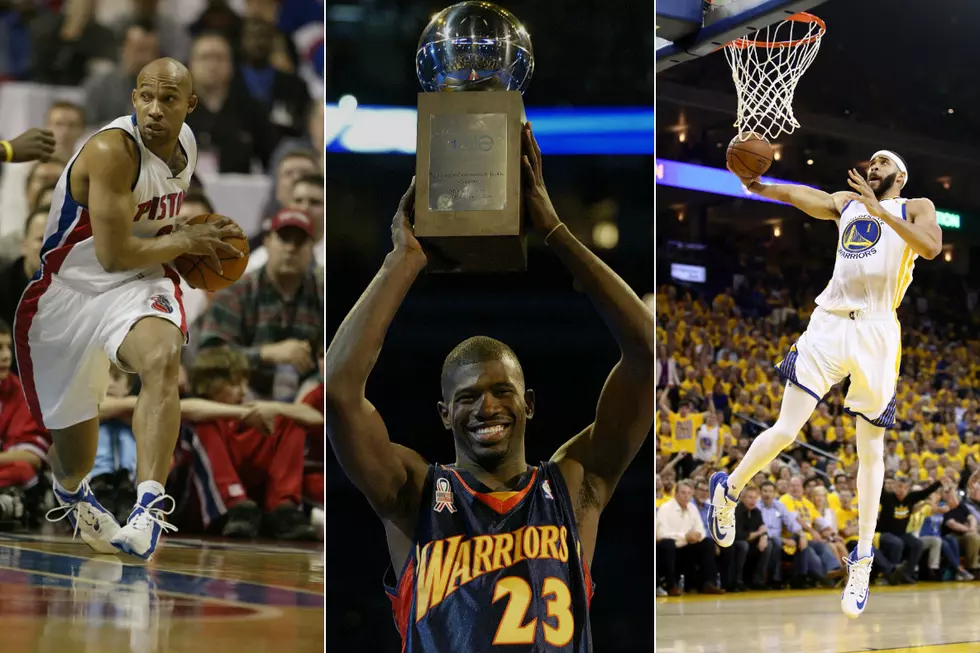 Here Are The Michigan Ballers That Have Soared Through The NBA Dunk Contest
Getty Images
Michigan has been well represented in the NBA Dunk contest history, especially the Flint and Saginaw area.
Michigan ballers have been a part of the NBA Slam Dunk contest since the inaugural competition in 1976. The ABA and NBA merger took place right after that season, so the dunk contest was on hold until returning in 1984.
The dunk contest has experimented with a ton of different formats, all with the hopes of bringing more excitement back to the event. Some worked really well, and some almost brought an end to the dunk contest. One of the things that has stayed constant, is that a steady flow of players from Michigan have been part of the competition.
Here is a list of all the Michigan born players to participate in the dunk contest, and a few players that we have adopted into our Michigan sports family. We'll start the first ever dunk contest.
GEORGE "THE ICEMAN" GERVIN - 1976-1977
Gervin was born in Detroit, and played his college ball at Eastern Michigan. He was in the ABA Dunk Contest in 1976 that happened at half time of the all star game.
He was also a participant of the first NBA Dunk Contest in 1977, but the contest lasted the entire year. It also included a game of horse, which is amazingly boring to watch. If you have a bunch of time to kill, check out Gervin and Pistol Pete going at it during a game of horse.
Terry Tyler made a quick exit in the 1986 dunk contest, and the video above shows why. He was the oldest participant in the contest, and was eliminated in the first round. Tyler was born in Detroit, and went to the University of Detroit. Tyler finished last in 86, but there would be a few Michiganders to pick up the slack after him.
Darvin Ham is from Saginaw and was known for being a monster dunker. He actually won the 1996 NCAA Dunk Contest, and was known around the league as Dunkin Darvin. The crazy part is that Ham wasnt even supposed to be in the NBA Dunk Contest. He was a last minute replacement for Allen Iverson after an injury prevented him from participating.
Ham is a Michigan guy to the core even though he didnt play his college ball in the Mitten. He has a championship ring as a member of the 2004 Champion Detroit Pistons team.
Jason Richardson - 2002, 2003, 2004
Jason Richardson is from Saginaw, and is the only Michigan born player with an NBA Dunk Contest Championship Trophy. He's one of only five players that hold multiple Slam Dunk trophies, and is considered to be one of the all time great dunkers in the contests history.
You can say what you want about JaVale McGee (and most people have) but one thing you can't say is that he didnt deserve to win the dunk contest in 2011. McGee was robbed by an NBA and KIA partnership that Blake Griffin is still taking heat over. JaVale has become a fairly infamous NBA personality, but the creativness he brought to the 2011 contest is unmatched.
ADOPTED MICHIGAN DUNK CONTESTANTS
There are a few players that werent born in Michigan that have earned a place on this list. They either played their college ball in the Mitten, or have become synonomous with Detroit sports.
Glen Robinson III - 2017 Winner