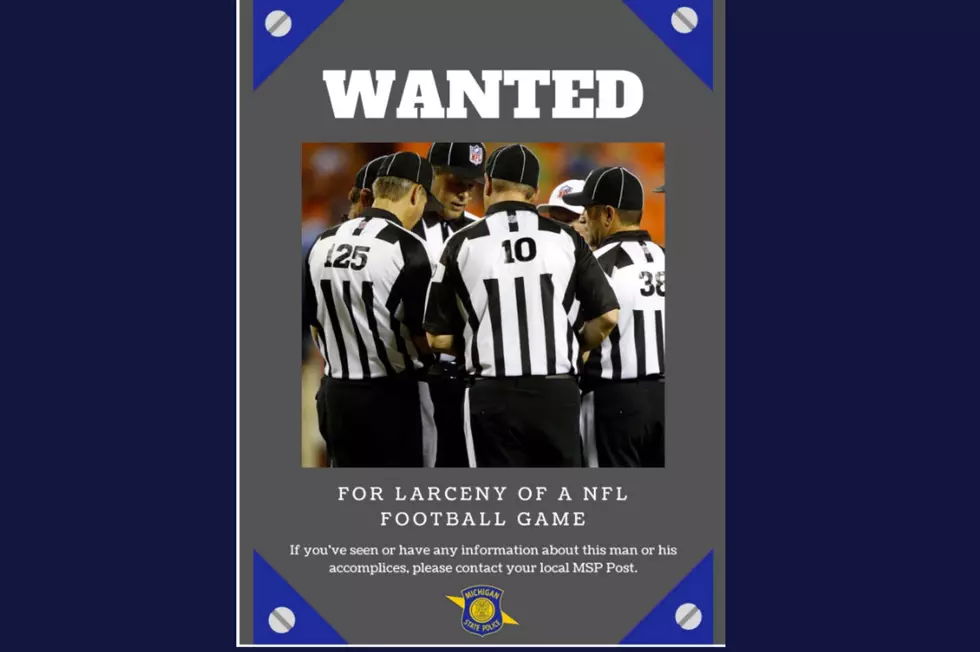 Michigan State Police Put Out Wanted Poster Following Lions Game
MichiganStatePolice
The Michigan State Police may have won the award for best reaction to the Lions getting robbed Monday night.
The MSP Twitter account posted a full on "Wanted" poster featuring the officiating crew from the Lions Packers Game.
I don't care how witty your angry tweet was following the game, this one is better.
The reaction hasn't calmed down from Lions fans, and football fans, from all over the country. The NFL has commented officially that the refs made a mistake, and they are meeting with the Lions to talk about it.
Don't expect anything to come from the meeting, it's not like the league will give the Lions a win or anything like that. The only thing that will most likely come from it is an apology, and a possible rule change for next season.
I think it's hilarious that the MSP made the joke, because I'm getting a little tired of the genuine anger people seem to have. The ref screwed up, bottom line. There is no NFL conspiracy theory.
I have realized one thing after all of this though, it's no wonder why there is a referee shortage in sports today. I'm not excusing the mistake that these guys made, and they definitely deserve some of the heat they are getting. Take a second though and imagine what it would be like if the entire country came down on your head when you had a bad day at work.